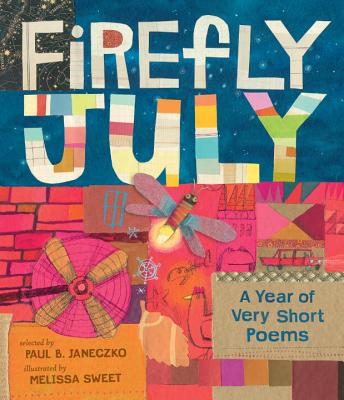 Most kids are familiar with the accessible verse of Shel Silverstein's Where The Sidewalk Ends and Jack Prelutsky's The New Kid on the Block (or his poem, a regular classroom favorite, "Homework! Oh Homework!"). But for many kids, that's as far as their poetry knowledge goes. And in a time of tightened school budgets and piled-on curriculums, it's often the case that beautiful, new poetry collections go undiscovered. That's why today I'm sharing one brand new and three newish favorites. All are collected around the theme of "Seasons," each offering teachers, parents, librarians, and students a terrific selection of  poetry goodness.
FIREFLY JULY: A Year of Very Short Poems selected by Paul B. Janeczko, illustrated by Melissa Sweet
This brand new collection, strikingly illustrated in watercolor, gouache, and mixed media by Melissa Sweet, has already garnered a host of dazzling reviews. Thirty-six very short poems (none longer than 10 lines, some lines being only one word long) celebrate the seasons, not only as images that remind readers of changes in weather, but also as poems that, against the backdrop of Sweet's colorful art, convey the mood of the chosen season.  Take William Carlos Williams's familiar, "The Red Wheelbarrow" which is found in the section titled "Spring," or Carl Sandburg's "Fog," which is grouped with poems about winter. In a strict sense, neither poem need be limited to a particular season. And yet, grouped as each is and taken as a whole – poem and illustration – each offers a refreshing, new way of thinking about seasons.
A mix of  familiar (as mentioned above) and unfamiliar poems (such as "In Passing" by Gerald Jonas and "A Happy Meeting" by Joyce Sidman), this is a collection to read, share, and inspire.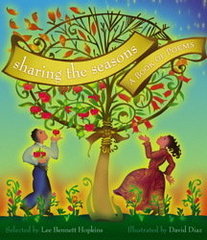 As a brand-new teacher long ago,  I learned to fill my classroom walls with poetry – seasonal poems that were always there – ready to chant, enjoy, memorize. Poetry became our shared experience; seasonal poems, an important part of our canon. Even using this one book, SHARING THE SEASONS: A Book of Poems, selected by Lee Bennett Hopkins, illustrated by David Diaz (Margaret K. McElderry Books, 2010) , any teacher would have a hard time settling on only four or five poems for each season. Perhaps, "Budding Scholars" by April Halprin Wayland about flowers who've become students. Or "Winter Home" by Rebecca Kai Dotlich about barns and beds, rags, and shreds of cloth tucked into tiny mouskin spaces…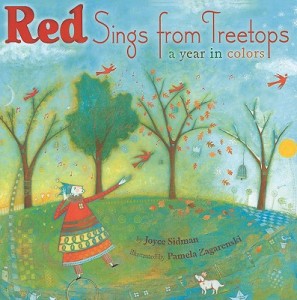 I've mentioned Joyce Sidman's poetry before on ReaderKidZ and her collection RED SINGS FROM TREETOPS: A Year in Colors (Houghton Mifflin, 2009), for which illustrator Pamela Zagarenki won a Caldecott Honor, is perhaps my most favorite. Color and season come together in this whimsical collection that will inspire students to write their own seasonal/color poems.
Here's a snippet of "Spring" – "Green peeks from buds,/ trembles in the breeze. /Green floats through rain-dark trees, /and glows…/Green drips from tips of leaves…In spring, even the rain tastes Green. "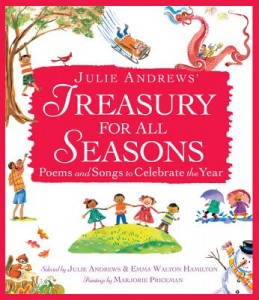 Looking for a month-by-month collection? Try Julie Andrews' Treasury for All Seasons: Poems and Songs to Celebrate the Year, (Little, Brown Books for Young Readers, 2012) selected by Julie Andrews & Emma Walton Hamilton, with paintings by Marjorie Priceman – a diverse collection which includes poems by familiar poets such as Langston Hughes ("I Dream a World" , "My People") and Christina Rossetti ("A Christmas Carol") and others, less well known, by poets such as Barbara Juster Esbensen (whose book, A Celebration of Bees: Helping Children to Write Poetry, is an OOP gem worth buying used, or as an ebook).
What are some of your favorite kids' poetry books for all seasons?