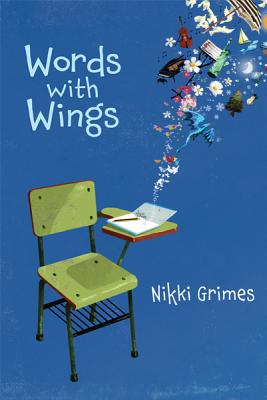 As far as the ReaderKidZ are concerned, every month of the year should filled with poetry. But come April, it's official – National Poetry Month! This month we'll be sharing some of our favorite poetry collections, anthologies, and novels in verse. We'd love to hear about your favorites, too!
Try reading poetry late at night in bed, or early in the morning riding to school, or even while eating a peanut butter sandwich.  The sounds and songs within a poem can unlock one's thinking and let imagination fly.  The metaphor within a poem or even in one word, can become a magic door to understanding or just plain enjoying a sight, sound, or one's imagination in a fresh new way. – Nancy
WORDS WITH WINGS, A story in verse by Nikki Grimes
More and more, Gabby's parents are arguing, fighting, not talking.  Finally Dad storms off and does not return.  Then the big word, DIVORCE.  Gabby has always been a dreamer and now her daydreaming becomes the world she prefers.  Words are her escape.  Words give her wings.  But too much daydreaming causes problems – no friends, trouble in school, and an angry, frustrated mother who demands that Gabby "stay tuned in" and STOP daydreaming.
No one understands.  Moving to a new school means losing her one good friend and Gabby's new classroom offers no hope of a friend who "gets it." Will Gabby risk befriending the kid who never looks up, never speaks, just keeps drawing?
Nikki's simple, evocative verses quickly introduce us to Gabby who feels lonely and isolated, even different – a feeling we all know and often keep secret.  Nikki invites the reader to take flight along with Gabby:  "Say 'waterfall,' and the dreary winter rain…turns to liquid thunder, pounding into a clear pool… and I can't wait to dive in."
On the suggestion of her teacher, Gabby takes the challenge to write down her dreams.  In the process, Gabby makes an amazing discovery – she doesn't have to stop daydreaming. She can use her dreaming to create poetry and stories that connect with her classmates, and even her mother.  Gabby writes:  "…I'll let her [Mom] keep her daydreams, since she's finally, letting me keep mine."
Drop by ReaderKidZ later this week to learn more about Words with Wings and read a short conversation with author Nikki Grimes.