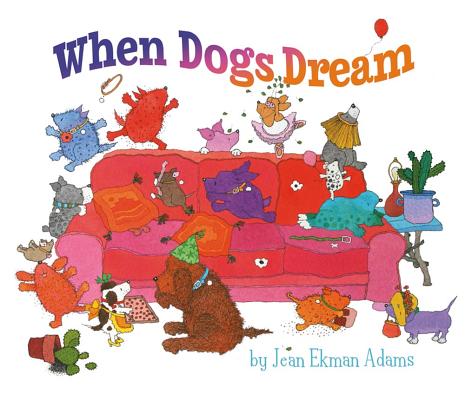 WHEN DOGS DREAM by Jean Ekman Adams (Rio Nuevo Publishers, 2013)
Four furry, homeless friends have great adventures and good times together. But each one dreams about – wonders  – what it would be like to have a real home.
"When it freezes, we could sleep in the bed . . . And when it thunders, we could sleep under it."  Snarfy, Darryl, Shine, and Shorty live out under the great Western sky. Jean Ekman Adams creates their southwest desert world with splashes of color, funny and unusual images.  Each page is a surprise, a smile, and a delight.  With some "elbow dog grease," which includes pounding, painting and patching, their dream does become real.  The author's end note includes a page of animal rescue sites so other rescued dogs can find their own safe, cozy home.
WHEN DOGS DREAM can also be a "metaphor" story about homeless children and families.  When young readers think about what these homeless dogs long for and dream about – a "real home" – they may also begin to consider how homeless children feel. This book can begin an important discussion about the dreams and hopes of those without a place to live.
I met the author and artist, Jean Ekman Adams, at the Heard Museum in Phoenix and asked a few questions about your new book.
NANCY:  Jean, what was your inspiration to write about four homeless desert dog friends?  Have you provided a place at your home for wandering dogs? 
JEAN:  My inspiration for WHEN DOGS DREAM came when I'd stopped in Kayenta, Navajo Nation, to walk my four dogs and water my mule and donkey in the trailer.  A whimpering stray dog approached that had a huge bloody hole in her side – hit by a car.  I fed her.  I could not stand to leave her there.  I always bring food and water to leave for any hungry homeless dogs, but they are painfully shy.  This one, needing help, allowed me to pick her up and put her in my truck.  Of course I kept her.  She has been a very sensitive, intelligent and needy dog.  I have four other dogs, all rescues, all misfits, and all adopted at old ages.  We are a happy gang.
NANCY: Jean, when you are both illustrator and author, which comes first – the pictures or the words? 
JEAN:  First, I envision the story and then I do the artwork.  Ideas just keep popping up like crazy while I am drawing.  It is way easier to think of words when I can look at my image.  I love to work this way.  I am totally zoned out.  But doing the images first and the words last is no editor's dream!  Our minds all work in different ways, and I am loathe to commit to words before I can SEE the image.  I can try out different colors, different compositions, all in my head, before I draw.
As a child, I only played with stuffed animals.  I only had one doll.  Animals have always been interesting and full of personality to me.  My dad (Stan Ekman, nationally known illustrator – Saturday Evening Post, Collier's, etc ) used to make up animal stories to tell me.  I think that's where it began.  He encouraged me to draw but I did not have the courage to begin till I was 28!!  We both exhibited in Scottsdale galleries for years, had several father- daughter shows together, but I did not attempt a book till I had been a professional artist for thirty years !!!!
WHEN DOGS DREAM is a wonderful celebration of friendship with a lingering message about the importance of having a home, especially a home shared with four fine friends.