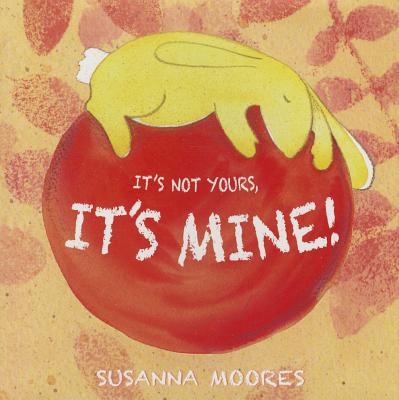 IT'S NOT YOURS, IT'S MINE! by Susanna Moores (Child's Play, 2013)
Blieka's been given a ball. It's big. Round. And red. It's hers. Forever and always. Blieka doesn't care if her friends keep asking to borrow it. She won't share and, worried that someone might take the ball without asking, Blieka carries it with her EVERYWHERE.
Of course, something happens. The ball goes flat and Blieka realizes that if she wants her friends to help out, she'll have to do her part and give sharing a try. It's not easy at first, but it gets easier with practice. And the good news? Everyone brings their toys to share with her!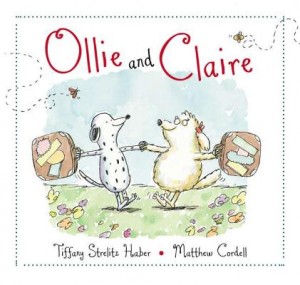 OLLIE AND CLAIRE by Tiffany Strelitz Haer, illustrated by Matthew Cordell (Philomel Books, 2013)
Ollie and Claire are best friends. A tightly knit pair, as close as hot buttered biscuits and jam. "They frolicked by day at the park and the bay, where they yodeled and yoga'd and swam." For a long time, the two are inseparable. Then, Claire becomes bored. She needs a change!
Out and about, she spots a sign announcing, "Travel Friend Wanted for Round-the-World Journey." She can't pass up the opportunity and, surely, Ollie won't mind being left behind. Or will he?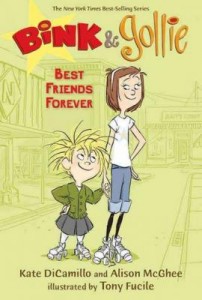 BINK AND GOLLIE: Best Friends Forever by Kate DiCamillo and Alison McGhee, illustrated by Tony Fucile (Candlewick Press, 2013)
Bink and Gollie are best friends, even though they don't always see eye-to-eye. When Gollie discovers a photo of her old Aunt Natasha dressed like a queen, she suspects royal blood flows through her veins. Bink is not impressed. She likes the old Gollie. Who needs a "new" friend when the "old" one was perfect?
Never mind. Bink has her own problem to deal with. Her very own Acme Stretch-O-Matic should take care of it! After all, why should she be shorter than her friend?
The last chapter sees Bink and Gollie gathering a prize-winning collection in hopes of finding their way into the second volume of Flicker's Arcana of the Extraordinary. It doesn't happen quite as they planned, but these girls know how to make their own happy endings.
Somewhere between  EZ reader, early reader, and picture book, Bink and Gollie offers a refreshing, quirky look at friendship.