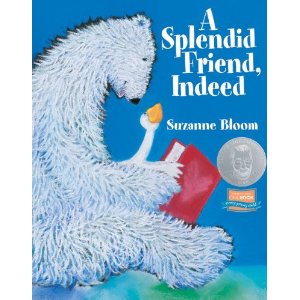 "Let's face it, friends make life a lot more fun." – Charles R. Swindoll
Sometimes a good friend is hard to find, but these books remind us that the friend we are looking for can often be found in the most unlikely of places.
For the youngest readers:
A Splendid Friend, Indeed by Suzanne Bloom (Boyds Mill Press, 2007)  Oh, how the goose wants to be friends with the polar bear and oh, how the polar bear just wants to be left alone with his book! In the end, the two mismatched pals realize that in each other, they have a splendid friend, indeed. Young readers will enjoy the simplicity of the story told completely through dialogue and everyone will love the yummy, color-saturated art.
For the transitional readers: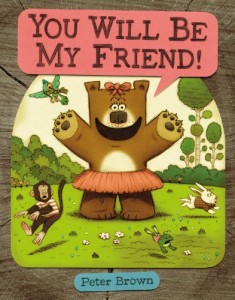 You Will Be My Friend! by Peter Brown (Little, Brown & Co., 2011)  Lucy, the sassy bear-heroine from Children Make Terrible Pets, learns that making friends is not always as easy as approaching someone and declaring, "You will be my friend!" Lucy doesn't give up hope, though, and she does find a friend who is as silly and tenacious as she is.
For the older readers: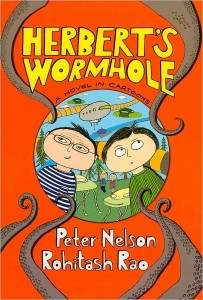 Herbert's Wormhole: a Novel in Cartoons by Peter Nelson and Rohitash Rao (HarperCollins, 2009) Alex is irritated when his mom arranges a "playdate" with his quirky next door neighbor, Herbert, but he's beyond furious when he finds Herbert has messed with the motion-sensor bodysuit for his favorite video game. Herbert's "invention" accidentally sends the boys through a wormhole, and together they forge an unlikely friendship as they battle aliens in alternate futures.