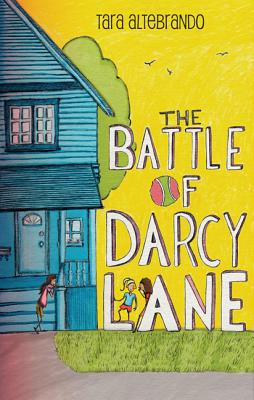 In The Battle of Darcy Lane, author Tara Altebrando portrays the complicated nuances of adolescent relationships in a creative, authentic, competitively believable way. In this entertaining novel, Altebrando explores how loyalty between friends can shift at the roll of one's eyes. She takes a close look at the fragile nature of relationship while considering others are stalwart and undeservingly true.
Twelve-year-old Julia and Taylor – best friends and neighbors – plan to enjoy a lazy summer together. Their intentions are altered when irreverent Alyssa moves to Darcy Lane. Instantly, as if under a spell, Taylor shuns Julia.  As days go by, thwarted Julia struggles to discover a way to find a place in the friendship triangle. Alyssa, master of a hard-hitting, rhythmic ball-bouncing game called Russia, challenges Julia to a high-stakes competition. Julia accepts and the battle begins.
The Battle of Darcy Lane is much more than a triumph-over-a-mean-girl rivalry story. Instead, it is a tender, multi-layered tribute to the celebration of innocence, the power of nature, and the promise of true love. This novel serves as the perfect study of the best and the worst in human nature, and the strength required to remain true to oneself.
Special Note: In efforts to enhance the reading experience, Running Press Kids is offering a downloadable comprehensive Discussion and Activity Guide free of charge. Access it and enjoy!