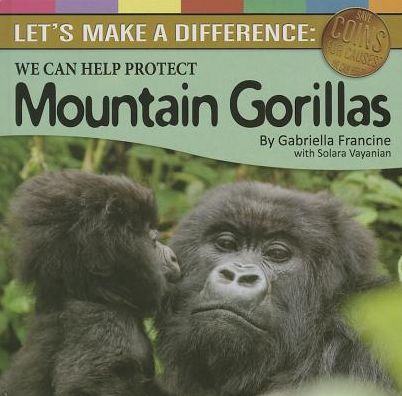 We Can Help Protect MOUNTAIN GORILLAS, written by Gabriella Francine with Solara Vayanian (Let's Make a Difference series, Big Blue Marble Books)
Want to read about a real-life adventure that takes you to the Virunga Mountains of central Africa?
Do you love animals?  How about gorillas?  Want to learn about these gentle giants and perhaps join in the work to save them from extinction?
LET'S MAKE A DIFFERENCE; WE CAN HELP PROTECT MOUNTAIN GORILLAS is photo-picture book that introduces young readers to what it's like to be a gorilla.  The book is filled cover- to-cover with excellent close-up photographs of baby gorillas, mama gorillas, grandpa gorillas, and people studying gorillas.  Illustrations with brief factual narratives tell the story about why we should care that less than 900 mountain gorillas are still living in the wild.
Did you know that, just like you, gorillas love to eat blackberries?  They also enjoy munching on wild celery; maybe you will have a chance to try it someday.  They don't like it when their big mama combs their tangled hair.
A few pages about Dr. Dian Fossey and her work studying gorillas in Rwanda for 18 years begins a simple but informative discussion about why we should care about endangered species and what we can do, even a few pennies or dollars at a time.
The last two pages list organizations that work to protect mountain gorillas and their habitat, including The Gorilla Doctors, Endangered Species International, and the Association of Zoos and Aquariums – excellent resources for readers to find more information.  Also listed are more than a dozen zoo websites.  Readers can research the many ways zoos are working to make life better for all animals.
Good news – the next book in this series is available now: Orangutans!