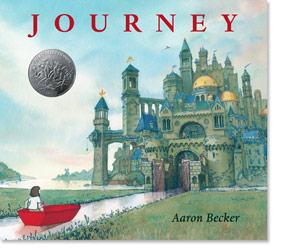 During the bleak, grey days of February, nothing is better than curling up with an enticing adventure/mystery book. The qualifications for a great mystery/adventure book are simple to describe but crazy difficult to create. First, it must be exciting and fast-paced. Second, the quickly moving plot must not exist at the expense of or detract from well-rounded characters. Finally, the book must surprise the reader. No  reader wants to solve the mystery or predict the conclusion of the adventure by the second chapter. So here are my picks for awesome adventure and mystery books.
For the youngest readers:
In the wordless picture book  Journey by Aaron Becker, a young girl is bored at home. Both of her parents are too busy working to provide any amusement. Luckily, the girl discovers a magic red crayon which transports her to a distant realm full of adventure. I adored this book's emotional artwork and surprising plot twists. All ages will enjoy this fantastical adventure.
For transitional readers: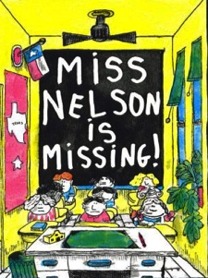 As a librarian, few books give me more joy to share as a read-aloud than Miss Nelson is Missing by Harry G. Allard, Illustrated by James Marshall. When I discovered that a Miss Nelson Collection will be reissued in May 2014, I knew I had to add it to the list! The kids in Room 2B are giving the sweet Miss Nelson all kinds of trouble. When she is absent one day, the students are over-joyed with potential to cause their substitute teacher all kinds of trouble. Instead, Ms. Viola Swamp arrives and the kids are soon seeing the error in their ways. Readers will love deciphering the clues left by Viola Swamp concerning what really happened to Miss Nelson.
For older readers: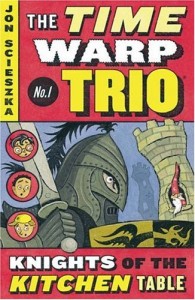 I double-dare any reluctant reader not to be sucked into the hilarious and often smelly adventures of Joe, Sam and Fred in Knights of the Kitchen Table (Time Warp Trio) by Jon Scieszka, illustrated by Lane Smith. When Joe is given a book for his birthday by his ne'er-do-well uncle, he has no idea of its magic powers. Fast-forward a few unlucky words later and the three boys find themselves in the court of King Arthur, trying to figure out a way to get home as well as stay alive. The humor and fast-paced story is perfect for kids who are not quite ready for the Wimpy Kid series.
For the past twenty years Melissa Buron has worked as a librarian and teacher for young people in Africa, Europe and the United States. In addition, she is an author, blogger and journalist. You can find her at www.melissaburon.com or on Facebook, LinkedIn and Twitter (@melissaburon). Contact her with your favorite mystery/adventure books or just to say "hi!"