Our guest, Janet Wanamaker, is a Reading Specialist in Wisconsin who works with struggling readers:
In my work with children who struggle to learn to read, a book has to engage the reader. I was fortunate to experience the moment when a child who had struggled for years was matched with a break-through book.  To hear, "I never read a whole book before!" is a magical experience. The selections below can make the difference for a reader who just hasn't gotten hooked…..yet.
Dori Hilstedt Butler's Buddy Files series really engages kids. The first book in this mystery series is: The Case of the Lost Boy. The story is told from the dog's point of view, which may be new to some readers. The pages are visually appealing to readers who can't handle a lot of text. Illustrations also add to the reader's understanding of the story. This was a turning point book for a 4th grade student who had difficulty with attention and processing.  Though the book can be enjoyed by on-grade-level readers in second grade, it is still appealing to an older struggling reader, thanks to Buddy himself.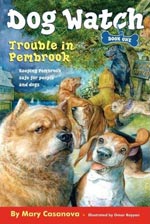 Mary Casanova's Dog Watch series begins with Trouble in Pembrook and features "dogtectives." The author's dogs are her inspiration for the characters and a town in northern Minnesota where registered dogs are free to roam without leashes gave her the idea for this mystery series. Kids can see photos at Casanova's website. It is impossible to overstate kids' love of books with dogs. This six-book series has a reading level of 4.2.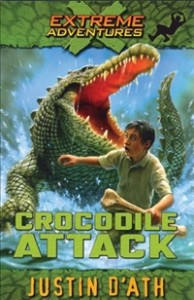 My final suggestion is the Extreme Adventures series. This series, by Australian Justin D'Ath currently has six  books. The first is Crocodile Attack, which is at a fifth grade reading level. The series is set in Australia, so kids may need to do some image searches to aide in their understanding. It does help to read the series in order. These books really move from one dangerous situation to the next. Some reading experts caution that kids should not get hooked on fast-paced action books because they miss out making emotional connections to the characters.  My theory is that until the student has that breakthrough, finishing a book, he might never willingly read the more emotion-based book. This series can be tricky to track down, but it is well worth the effort.
Janet Wanamaker is a school speech pathologist, with a second master's degree in Language and Literacy, and is certified as a Reading Specialist in Wisconsin. She is also a fellow of the National Writing Project, and is part of the Fox Valley Writing Project at the University of Wisconsin-Oshkosh. She loves children's literature and learning the stories behind the books and the people who write them.