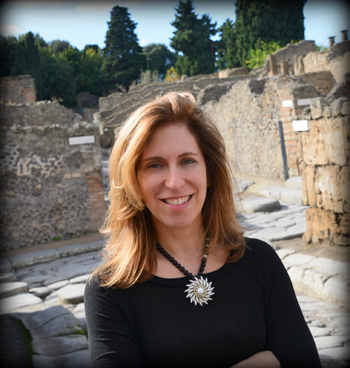 The newest book in the popular "I Survived" series is I SURVIVED THE NAZI INVASION 1944. Two more books are already in the pipeline, with more to come. ReaderKidZ talked to author Lauren Tarshis about how she researches each disaster, the challenges of creating a fictitious story around each one, and why there are no girl protagonists in any of the books.
ReaderKidZ: I have to say it: all of the protagonists are boys. Sometimes they have younger sisters, but boys carry the action. Why is that, do you anticipate that will change in future books, and what did your daughter have say about that?
LT: Sigh. I know. My feeling is that the kind of kids who really NEED these books – those struggling boy readers – are less likely to read a book with a girl on the cover. Whereas those enlightened girl readers are more open to a boy character. I get LOTS of emails about this issue, from mothers and teachers and girls. I wish I could say, "I promise I'll feature a girl soon!" But I will continue to feature boys, and add strong girls as I can.
ReaderKidZ: You use both national and international disasters. That's great. Kids need to know about important events in other countries. How do you choose your disasters, and what are some that you might write about in the future?
LT: Now mainly I'm responding to what kids tell me they are interested in . I get all of those emails, and they come up with some great ideas! Scholastic is actually running a little contest to pick the topic for book 11 – kids will be able to vote on three choices, all drawn from emails from kids. Not sure what the final choices are, but it's great to be able to draw from what the kids want to read about.
ReaderKidZ: I love the story you tell about each disaster, but what I really admire is the way you make up a fictitious character and put him, with all of the personal challenges he's facing that are unrelated to the disaster, into the middle of it. Every family and child in each book is different. Which was the harder part to write?
LT: Just thinking about this makes me nervous. Definitely the hardest part is thinking of the characters, their back story, and how they will grow through the disaster. It's never that they simply survive, but somehow the experience needs to propel them in a positive direction – closer to their family, more appreciative of their inner strength, FREEDOM (like Thomas in the Gettysburg book), and always aware of their resilience. It takes me many drafts to figure out the main character, and I always go through a feeling of panic that I will never discover him. I long for my own character who can appear over a series of books, and grow and change in the readers' eyes over the life of the series.
ReaderKidZ: You have a terrific facts section at the back of each book. I can't help but feel that teachers and librarians around the country are finding the "I Survived" series a very helpful teaching tool. What do you know about how the books are being used in classrooms and schools?
LT: This has been a great part of the series, the fact that many teachers have embraced the books. I have been editor of Storyworks for so long, and have a pretty worshipful attitude towards teachers. I love talking to teachers, hearing from them, figuring out how work I do could make their lives easier. What I hear from teachers is mostly about their success with their struggling readers. I'm always moved by how teachers feel a deep responsibility for not only teaching their kids TO read, but to try to ignite a passion for reading. I think many educators are drawn to the field by this feeling of mission. And it's really satisfying to be a part of that journey with many teachers.
ReaderKidZ: Thanks for joining us on ReaderKidZ, Lauren. We appreciate your passion for kids, books, and teachers and look forward to reading the next books in this terrific series! 
Don't miss Part 1 of Lauren's interview with ReaderKidZ HERE.