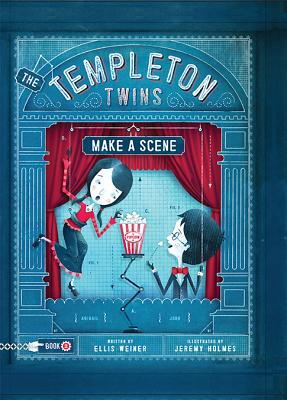 The Templeton Twins Make a Scene by Ellis Weiner, illustrated by Jeremy Holmes (Chronicle Books, 2013)
This sequel to The Templeton Twins Have an Idea finds brother and sister team, John and Abigail, at TAPAS (the Thespian Academy of the Performing Arts and Sciences), where their father, Professor Templeton, has been hired to create another of his brilliant one-of-a-kind inventions.  Of course, the dastardly Dean brothers – Dean D. Dean and Dan D. Dean – are scheming to share in the success Professor Templeton is sure to garner for his newest invention, and they're up to their usual, underhanded tricks. 
Most comical, though, is the intrusive Narrator who sprinkles every page with his uncommon wit, commentary, footnotes, recipes, pop quizzes, and multiple choice questions at the end of every chapter.
Fittingly dedicated to Mr. Lemony Snicket, this is a book, "perfect for boys and girls who are smart, clever, and funny (just like the twins), and who enjoy reading adventurous stories (who doesn't?!)."
Click HERE for a ReaderKidZ review of the first book in the series, The Templeton Twins Have an Idea.