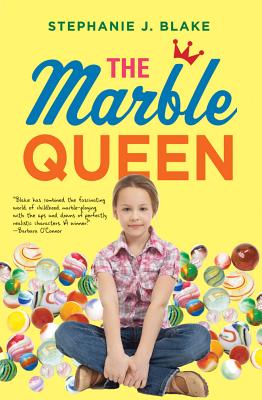 Marbles?  YES. And Freedom Jane McKenzie is determined to be THE champion winner, a Marble Queen.  She is determined to enter the marble competition at the Autumn Jubilee and show the neighborhood boys – especially those boys that tease and bully her – that she is the best marble player around. Better than any boy in town!  But first Freedom Jane McKenzie has to convince her mother that not only is it okay for a girl to play marbles in the mud, it is okay for Freedom Jane to be the only girl to enter a marble contest.  After all, there are NO RULES that girls cannot compete – except maybe her mother's.
But one problem after another looms dark and difficult.  Freedom's mother is expecting a baby soon and needs help at home.  Extra chore time means less marble-shooting practice time. Dad is troubled about money and bills and begins drinking too much.  Freedom's little brother is too often a pain in the neck.
In this middle grade novel, author Stephanie J. Blake brings us back to the time of jellybeans, hop scotch, jump rope and marbles.  Also to the time when families struggled to make ends meet – a timely concern for many children – and when younger siblings sometimes needed a few important lessons, such as the delicate art of eating worms.  Stephanie J. Blake has created a realistic, daring and delightful character -Freedom Jane is feisty, funny and fearless.  Her strategies to cope with bullies and boys will make the reader laugh with recognition and nod with compassion.  THE MARBLE QUEEN is fun, thoughtful and universal to the yearnings, fears and antics of young girls of any generation.
Stephanie J. Blake, a Colorado Book Award Finalist, has more to say at www.themarblequeen.com and www.stephaniejblake.com  This book was published by  Amazon Publishing, December, 2012.