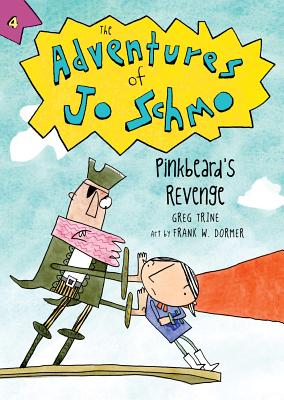 The Adventures of Jo Schmo: Pinkbeard's Revenge by Greg Trine, art by Frank W. Dormer (Houghton Mifflin Harcourt, 2013)
Fourth Grade Superhero, Jo Schmo, speeds through the streets of San Francisco with her dog Raymond ready to take-on trouble at a moment's notice. This time around, the nasty Dr. Dastardly, his accomplice Numb Skull, and a band of time-traveling pirates under the direction of their lemonade-loving leader, Pinkbeard are scheming to bring Jo down.
A prison break fueled by exploding macaroni and an (underwear) elastic slingshot are just two of the wacky adventures in store for readers. Lively action, off-beat illustrations, and Jo's special crime-fighting tricks assure plenty of laughs in this fourth book in the Jo Schmo series.
Check out a ReaderKidZ review of the first book in the Jo Schmo series, Dinos Are Forever, HERE.