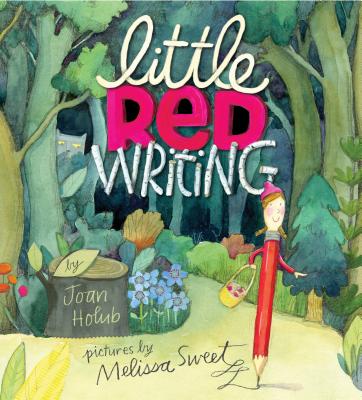 LITTLE RED WRITING by Joan Holub, illustrated by Caldecott Honoree Melissa Sweet (Chronicle Books, 2013)
In Little Red Writing, Red is tasked by Ms. 2, her teacher, to write a story. In fact, all the students in pencil school are, but what should they write about? The birthday pencil wants to write a happy story, the basketball pencil wants to write about sports, and Red decides to write a story about bravery because red is the color of courage. Armed with an idea, she sets out on her story path to weave a tale that is exciting. In the middle of her story she encounters a growly sound (Wolf 3000 pencil sharpener) that she narrowly escapes from. But the next time they meet, he's disguised himself as Principal Granny and eager to grind his sharp teeth on her. Even though Red is afraid, she knows it's up to her to save the day or everyone's life at pencil school will be shortened!
Joan Holub is the author and/or illustrator of over 130 books and she graciously agreed to spend a few minutes talking with us about her latest picture book.
Tell us how you came up with the idea to adapt the fairy tale Little Red Riding Hood?
The ideas came quickly and in this order, bang, bang, bang, bang: 1. the play on words riding/writing; 2. making the Little Red Writing character a pencil; 3. the wolf would be the growliest, grindingest pencil sharpener ever; 4. Red's journey would involve her writing her own story at the request of her teacher—a journey that would take her scribbling through her school.
What were the challenges in writing a fairy tale retelling?
Have you ever thought of a book idea and then been surprised that no one had thought of it before? That's how I felt about this idea when it first hit me. Building on an existing fairy tale framework was easy. The challenge was trying to make my retelling fresh and original. It took over eight years from idea to publication—the longest of any book I've written.
There is a lot of humor in Little Red Writing, how did you go about achieving this? Any literary devices that worked especially well for you?
I used puns, but tried not to use them as a story crutch. I wanted the story I was writing to stand on its own. So if a child had never read the original fairy tale, they'd still get a kick out of Little Red Writing.
Do you find it easy or hard to write humor?
For me, humor can be easy to write if I know what my character wants, why she wants it, and what's standing in her way. However, as Red says in the book, sometimes a story can get bogged down, hindered. A writer can get lost along the way. Red's teacher advises her early on that a little wandering is okay, but that she should stick to her basic story path. I tried to take that advice myself. The challenge for me became editing down so there was a clear sequence of events that would pull a reader through to the end, and not me simply going, "Ha! Look how funny I can write!"
What was it like working with illustrator Melissa Sweet? Had you worked together before?
I hadn't, but already had many of her books, including the Pinky and Rex series and A Splash of Red. Melissa is one of my dream illustrators, so I was thrilled when she signed on. She is mega-talented. And she's sweet! (Speaking of puns.) We didn't speak until after the book was finished. Until then, everything went through our Chronicle editor, who was also amazing and cared about the book every bit as much as we did. It felt like we were all three in it together, from beginning to The End!
Little Red Writing is a clever, comical story and a great teaching tool for educators on the subject of writing. Chronicle Books has also created a teacher's guide. Click HERE to download the guide.