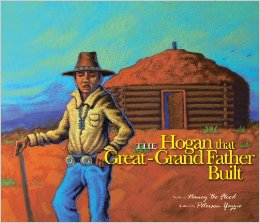 Holiday time is family time.  Our next give-away book is hot off the press, released just this week, and presents an honoring of family and home:
THE HOGAN THAT GREAT-GRANDFATHER BUILT  (Salina Bookshelf, 2013) celebrates the home and beauty of the Navajo family. Illustrations by Peterson Yazzie glow with the warmth and vibrancy of the southwest. Reds, turquoise, vermillion, and gold saturate the images.  With each turn of the page, readers meet individual family members as everyone waits to hear the rumble-bump sounds of an approaching pick-up truck – sounds saying that father is returning home from market.  The simple text by Nancy Bo Flood introduces the importance of family, home, Hogan and place. The images by Peterson Yazzie invite the reader to step into the beauty that surrounds the Navajo Hogan. This is Peterson Yazzie's first book and wow, his paintings are stunning.
Thanks to all those who entered. Books are on the way! For a chance to win a copy, email ReaderKidZ and put "The Hogan That Great Grandfather Built" in the subject line. Please include your name and mailing address in the body of the email.