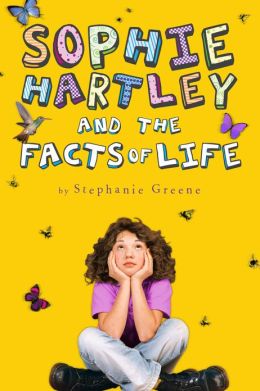 SOPHIE HARTLEY AND THE FACTS OF LIFE, by Stephanie Greene (Clarion Books 2013)
There comes a time in every young girl's life … well … Sophie Hartley calls it "P-U-berty" and doesn't want anything to do with it. What with curious friends and competitive fifth graders all vying to know what's in the movie, however, Sophie has to call upon her considerable strength of character to grow into it her way.
"This wryly amusing, perceptive story … a solid addition to the consistently entertaining Sophie Hartley series." Booklist review.
Thanks for entering! Winners have been chosen and books are on the way! For the chance to win a copy for a middle grade reader you know, email ReaderKidZ and put "Sophie Hartley and the Facts of Life" in the subject line. Please include your name and mailing address in the email.