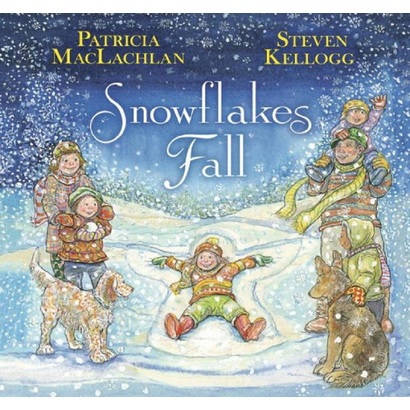 SNOWFLAKES FALL By Patricia MacLachlan, Illustrated by Steven Kellogg (Random House, 2013)
In memory of the children who died at Sandy Hook Elementary School, Newtown, CT, December 2012
"After the Flowers are gone, snowflakes fall… no two the same," during the first snow of winter.  Then a storm comes where "wailing winds may blow," and "frantic icy snowflakes scratch the widow glass." The next morning "the world shines" with snow blanketing everything. Children waste no time in playing and exploring.  The snow melts and the rains come and the flowers bloom again.  We can almost hear children's voices and laughter in the colorful and vibrant illustrations by Steven Kellogg, a long time Newtown, CT resident. This is a readable, lyrical picture book perfect for the season. It doesn't reference  the tragedy at all, but gently and abstractly remembers it with it's small town setting,  the innocence and optimism of playing children, and fields of snow angels.
Thanks so much to everyone who entered! A winner has been randomly chosen and notified. Happy snow days to all of our readers.
We're giving away one free copy! Email us at readerkidz (at) readerkidz (dot) com to enter and put "Snowflakes Fall" in the subject line. Please also include your name and mailing address.