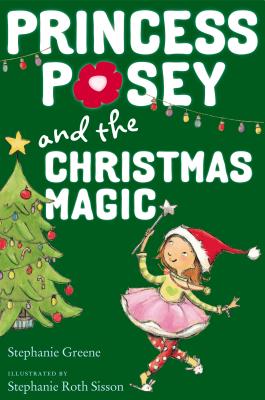 The countdown is on! Time to find the perfect book for the children in your life, your classroom, or your school. We'll be giving away books all this month, so stay tuned.
Kicking off the month is Princess Posey and the Christmas Magic by Stephanie Greene, illustrated by Stephanie Roth Sisson. In the 7th book in this early chapter book series, Posey asks Santa for a magic wand that really works. She's sure he'll bring it to her, too, until she hurts her baby brother and tells a white lie to her Mom. What if Santa saw and doesn't come to her house? When Posey discovers that Mrs. Romero needs some magic, she finds the courage to tell the truth to her mom with the help of her pink tutu. "… a powerful moment that is free of any emotional manipulation … no wand needed – pure magic for emerging readers." Starred Kirkus review.
Thanks to all those who entered the Princess Posey Giveaway. Please check your email! All winners have been notified and your new book will arrive shortly. For a chance to win a copy of Princess Posey and the Christmas Magic, email readerkidz at readerkidz dot com. Please put "Princess Posey and the Christmas Magic" give-away in the subject line and your name and mailing address in the body of the email.