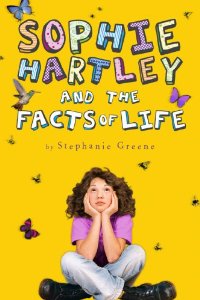 ReaderKidZ's own Stephanie Greene agreed to be interviewed for the release of Sophie Hartley and the Facts of Life, out from Clarion on November 19th. Greene's trademark is her deft touch with humor and heart for middle grade readers.
This story centers around 4th grade concerns about 'The Movie" (regarding puberty) that the girls are shown in the fifth grade. I remember it well. Do schools still do that? Have the methods of information delivery changed with technology?
Yes, schools still do. In some states, girls watch the movie in the fifth grade. In others, it's the sixth. I've even heard about kids watching it in the fourth. As children develop at earlier and earlier ages, they're being exposed to the facts concerning body changes earlier.
When I started this book a few years ago, I asked my ten-year-old niece, Amy, if she had to watch the movie. (I always say it in italics because that's the way young girls say it. Ask one and see for yourself.) Amy shrieked, fell sideways on the couch, and covered her head with a pillow. I took that as a "yes."
Sophie has two younger siblings and two older. It's a rambunctious but loving family and household. How was your own family growing up similar to Sophie's? How was it different?
The only similarities between the Hartleys and my family are that there are five children, and that I, like Sophie, was in the middle. But my siblings were much closer in age – 5 in 7 years (!)– while the Hartleys are spread out. My parents weren't like Mr. and Mrs. Hartley, except that my mother was a non-nonsense person like Mrs. Hartley. I'm sure I've borrowed from my experiences for the sibling dynamics, but much of what actually happens in each of the books is made up.
There are issues of loyalty in this story. Sophie's friend Alice is almost lured away by know-it-all Destiny, and Sophie is afraid that her father will "date" another woman when her mother is gone for a week. What does disloyalty mean to Sophie? What does it mean to the author?
Funny, but I hadn't thought about loyalty when I wrote it. Girls of that age are frequently worried about losing their best friends, and not being in the popular group, so that's where I got Sophie's fears about Alice. Her concern about her father is really more about her worry that her parents might get divorced. I suppose Sophie reflects the uneasiness of that age group, when they're moving out into the world on their own, and questioning family and friends, and basically at an unsure stage in many ways.
I don't remember being worried about my friends when I was young, but when my parents argued I worried they'd get divorced. They never did, which probably contributed to my being a very loyal person.
NEXT: Part 2 of the interview!