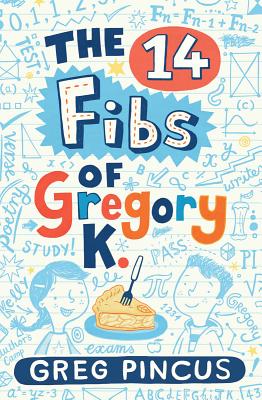 The 14 Fibs of Gregory K. by Greg Pincus (Arthur A. Levine Books/Scholastic, 2013)
Like many of us who were stronger in language arts, Gregory K. loves writing poetry. However, he was born into a family of mathematical heavyweights. He struggles to keep up with his family's math-centric view of the world, his father's ambitious math expectations of him, and even math class at school. In fact, he's flunking. Add to that, his best friend Kelly is moving 144 miles away at the end of the school year. She and Gregory have spent afternoons at Kelly's mom's pie store, The Slice, since they were babies. Kelly wants Gregory to go to Author Camp with her. His dad wants Gregory to enter City Math, the annual contest that both Dad and Gregory's insufferable older brother, "O," have won.
Gregory digs himself deeper into trouble by fibbing; to Kelly about camp and to his parents and math teacher about City Math. Fittingly, Gregory's forte is Fibonacci poetry, or Fibs for short, which are poems based on the Fibonacci sequence of numbers (0, 1, 1, 2, 3, 5, 8… syllables). As the ideal marriage of math and language, these Fibs solve for everything. And there's lots of pi, along the way. Um, pie.