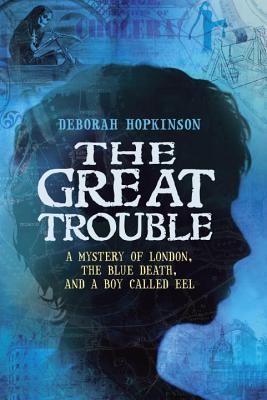 In a setting reminiscent of Dicken's Oliver Twist, Deborah Hopkinson's The Great Trouble: A Mystery of London, The Blue Death, and a Boy Called Eel (Knopf Books for Young Readers, 2013) is a gripping tale about a community stricken with a horrid plague and the brilliant doctor who discovered the source of trouble. The story is told through the point of view of a boy named Eel, a mudlark who slogs through the rancid, muddy waters of the Thames River in search of trinkets to sell. An industrious lad, Eel holds several other jobs about town such as sweeping the tailor's shop, helping out at the Lion's Brewery, and cleaning the animal stalls for the great Dr. John Snow.
After cholera strikes the tailor's home and the homes of others who live on Broad Street, putrid, foul-smelling, noxious death colors every aspect of Eel's life. He witnesses the agony of those stricken by the disease, people he cares for and strives to save. Eel alerts Dr. Snow about the epidemic, who has his own theory regarding the cause of the "blue death." "The miasma theory has been around for centuries," Dr. Snow continues. "People, even educated men, have believed it for so long that most are afraid to think in a different way, or consider a new idea (107)." While it seemed logical that the cause of the plague was miasma, or toxic "bad air", Dr. Snow had a different hypothesis, one that eventually saved lives.
The Great Trouble tells the tale of the development of Dr. John Snow's water transmission theory of the cholera outbreak of 1845 in a most compelling and suspenseful way. A forward-thinking visionary, with great compassion for the suffering of others, Dr. John Snow was a pioneer in the development of anesthesia. In this story, the fictional Eel guides Dr. Snow through the streets of Soho, helping him piece together the facts he needed to prove how cholera was spread.
Part mystery, part survival, and part adventure novel, The Great Trouble is historical fiction at its best!