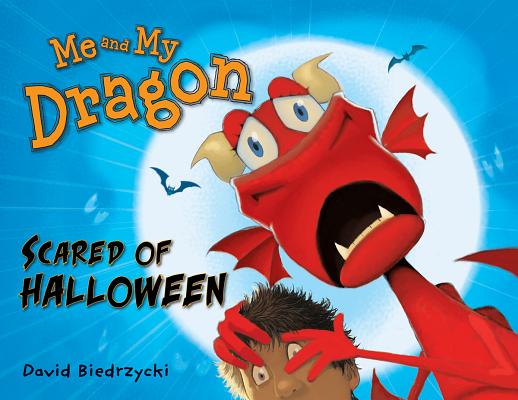 Halloween is the perfect time of year to shower young people with ghoushily fun books. Instead of cracking open a bag of candy, hit your local bookstore and discover all kinds of haunting treats to drop into young readers' bags. In the theme of Halloween, we're highlighting two books but there are scads of scary and sweet stories out there to choose from. Have a happy and safe Halloween!
Me and My Dragon: Scared of Halloween by David Biedrzycki (Charlesbridge, 2013)
Everyone loves Halloween, right? Dragon, not so much! And like Dragon, many young readers can relate to being scared of mummies and zombies and werewolves. But Dragon's best pal is determined to change Dragon's mind and find him the absolutely best costume to go trick-or-treating in. Or will Dragon even need to dress-up at all? Find out in this ripsnorting tale about two friends looking out for each other. In the follow-up to Me and My Dragon (Charlesbridge, 2012), Biedrzycki deserves two wings up! The text and art are a dazzling blend of storytelling for ages 4 and up. In true Biedrzycki fashion, he delivers even more story in the book's end papers!
Check out the book trailer for Me and My Dragon: Scared of Halloween by clicking on the link below.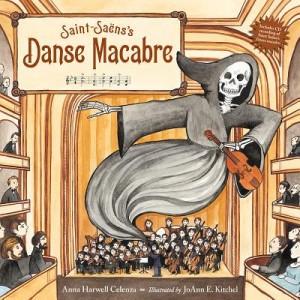 SAINT-SAËNS'S DANSE MACABRE written by Anna Harwell Celenza, illustrated by JoAnn E. Kitchel (Charlesbridge, 2013)
Influenced by historical fact, Celenza writes about one of Camille Saint-Saëns (1835-1921) most popular works Danse macabre, and she brings the composition to life for young readers, like skeletons at a ball, just in time for Halloween.
It's 1872 and French composer Saint-Saëns visits the catacombs that lie far below the Paris streets.  Surrounded by stone walls and more than six million bones, remains of heroes who fought in the french revolution, he finds the chilly inspiration he was searching for. He imagines skeltons dancing all around him. "CLACK, clicky, clicky, CLACK, clicky, clicky, CLACK."He returns top-side and works for years on composing that image into the melody that we now know today as Dance Macabre.
As part of a music-appreciation series, Celenza's and Kitchel's seventh collaboration is ghoulishly entertaining and will have kids falling in love with classical music. Kitchel's watercolor illustrations draw young people into the time period and the rhythm of the storytelling. "Long live the music! Long live the dance!" Author's note and CD accompany the book. Music teachers will delight in having their students listen to the CD and pick out the cellos, violins, trombones, woodwinds, cymbals, xylophone, and solo oboe in the masterpiece. For ages 6 and up. For information on the other books in the music appreciation series visit the publisher's website at www.charlesbridge.com.