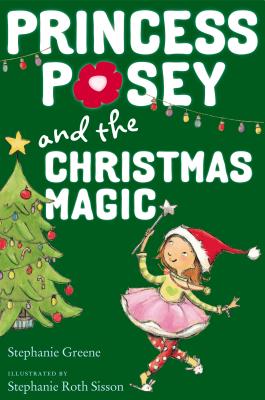 In Princess Posey and the Christmas Magic (Putnam, 2103), first grade protagonist Posey is beginning to mature. In this book, the seventh in the series, author Stephanie Greene and illustrator Stephanie Roth Sisson masterfully present some challenging emotional issues for Posey to ponder. Not only does she desire for Santa to bring her a highly unrealistic Christmas gift, she learns that her beloved neighbor, Mrs. Romero, has a deceased child. In addition, Gramps has asked Mrs. Romero for date! These are huge events for any feisty first grader to wrap their magic wand around.
In their starred review, here's what Kirkus had to say about these eloquently crafted story threads.  "A subplot about Gramps and his new love interest, neighbor Mrs. Romero, adds much to the story, making it more than just a story about a little girl. When Mrs. Romero shares a childhood picture of Barbara, her little girl who died years ago, the twist is revealed with calm, believable emotion."
In her own thoughtful and tender way, Posey, with the help of her all-powerful tutu, is beginning to step outside of her own needs to become more aware of sadness and joys experienced by those around her. She's growing up with each turn of the page, as are her faithful readers.