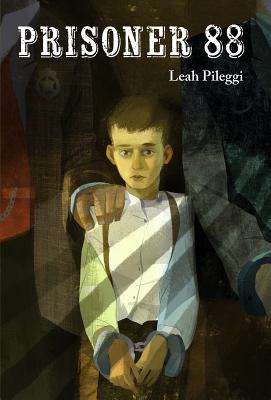 PRISONER 88 by Leah Pileggi (Charlesbridge, 2013)
In 2007, debut novelist Leah Pileggi toured the Idaho Penitentiary in Boise, Idaho. She discovered that the youngest prisoner incarcerated had been ten years old in the 1880s. Caught in a wave of disbelief, she was inspired by the boy's story. She knew she wanted to write about his survival, and the seeds for her historical novel took root.
In Prisoner 88, Jake Oliver Evans celebrates his eleventh birthday in the Idaho Territorial Penitentiary. He is sentenced to five years for shooting a man who threatened his father. A father who could barely take care of his son after his wife died.
Life in prison is rough for Jake. It's summertime and there is no air conditioning and the stench is worse than that of a pig farm. Burly, unclean, hardened criminals are housed in three rows of cells, one on top of the other. Every day, Jake makes the most of his life. He mucks pig stalls and eats three square meals, more food than he's seen in a lifetime. A couple of inmates befriend him and teach him to read and write. They watch his back. When his release date arrives; his pa disowns him. Jake has no place to go. But the kind warden isn't about to see this courageous young boy drift through life without a second chance, and soon Jake's ripping up his past and embracing his future. Pileggi tells a riveting story about a boy's coming-of-age, friendship, and how family can be found in the most unusual places. She skillfully creates a heroic protagonist that will live on in young readers' hearts—long after—the last page has been turned. For ages 10 and up.
To see pictures of the Idaho Penitentiary nicknamed "Old Pen," click HERE.