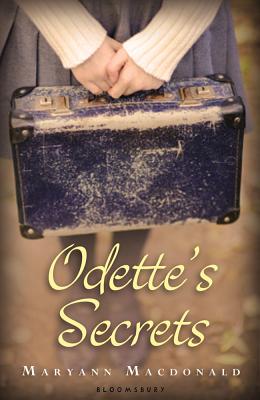 Based on the true story of a young Jewish girl living in Paris during the horrific days of the Nazi invasion, Odette's Secrets is a poignant and thoughtful depiction of one child's life and death experience. As is stated on the flap copy, "Inspired by the life of the real Odette Meyers – and written in moving free-verse poetry – this is a story of determination to survive, and of a young girl forced to hide in plain sight."
Inspiration struck author Maryann Macdonald  when she read the a plaque placed near an old Parisian elementary school in honor of the Jewish children who had been deported from France during World War II.  She was compelled to know more about these children. After much research, Maryann came across Doors to Madame Marie, the autobiography of Odette Meyers, one of those children who had been deported! She then became fascinated with this remarkable story, so much so that she returned to Paris to walk where Odette's feet once tread. As a result of her quest to fully understand Odette,  Maryann has tenderly told an amazing tale of trauma and triumph through the point of view of a young girl, a survivor like no other.
In hopes of guiding readers and educators to a better understanding of Odette's experience, Maryann is offering a free, downloadable CCSS Annotated Teacher's Guide as a pictorial companion for the novel. In it you'll find writing activities, discussion questions, a map foldable, a timeline activity, and more.