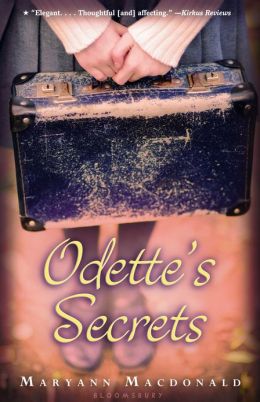 Earlier this week, we learned about the real Odette on whom the historical fiction Odette's Secrets was closely based. Today, author Maryann MacDonald tells ReaderKidZ more about writing this book.
How long did it take you to write Odette's Secrets?
A long time.  I discovered Odette's book in the autumn of 2006, and met Daniel, Odette's son, shortly afterwards.  In 2007, I went to the Vendee to explore Odette's life there.  Afterwards, I began writing the book at my kitchen table in Paris.  I wrote many drafts as the book evolved.  In 2008, I found my agent, Steven Chudney, whose own father had been a hidden child in Poland.  About two years later, we found the perfect editor at Bloomsbury, and after more revision, the book was scheduled to come out in 2012.  However, it was delayed until 2013 for various reasons.
I have learned, as a writer, the importance of patience and of believing in my work.  I have also learned not to put all my eggs into one basket.  My picture book, The Christmas Cat (Dial, 2013), based on a drawing by Leonardo da Vinci, was also written during this time, as was another picture book published in 2010, How to Hug (Marshall Cavendish, 2011).  The Christmas Cat won't be out until later this month!
 Where do you work? 
I tend to work at home or at the library.  Coffee shops don't really work for me…too distracting.  Now that I'm back in New York I often go to the wonderful New York Society Library on 79th Street.  They have a whole floor reserved just for writers and the atmosphere there, with everyone else around me working, makes me feel like I should be busy, too.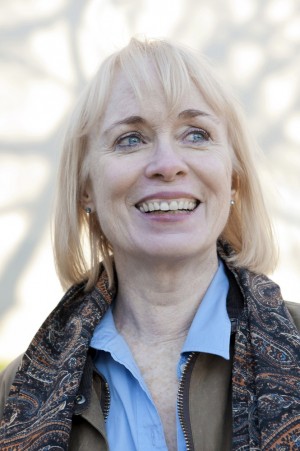 What were you like as a child?  How were you and Odette similar?  Different?
Odette was an only child, doted on by her parents and godmother.  While she was in Paris, she lived the supervised life of a city child.
My life growing up as one of eight children in the Detroit suburbs was quite different. Most of the time, no one knew where we were or what we were doing.  Odette had the experience of living in big family and having a lot of freedom when she lived in the Vendee.  She liked it, and so did I, although sometimes I dreamed of being a pampered only child.  Like Odette's Papa, my father introduced me to the world of books and reading.  And like her, I loved exploring and playing games.  I suspect we could have been friends.
You mentioned that you grew up in a neighborhood where there were many WWII stories.  Do you remember any that stuck with you especially?  Did your own parents or grandparents have any stories?
My best friend's father was in a Japanese prisoner-of-war camp during WWII.  He escaped but was recaptured, and weighed only 80 pounds when he returned home.  He didn't talk much about what had happened to him, but instead spent a lot of time in his garage working alone on radios.   It seemed to be understood that his wartime experiences set him apart.
By contrast, my petite Aunt Dorothy was proud of her WWII factory work.  She was so small she was able to crawl inside airplane wings to solder the pieces together.   Dorothy was an elegant woman whose fingers were always painted bright red. I loved imagining her as Rosie the Riveter.
Leave a comment to be entered to win a free copy of Maryann MacDonald's ODETTE'S SECRETS. We'll draw one lucky winner Friday, October the 11th and contact you by email. Good luck!