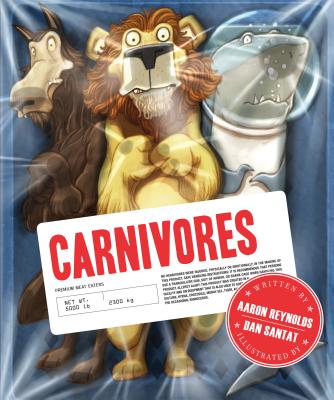 CARNIVORES by Aaron Reynolds, illustrated by Dan Santat (Chronicle Books, 2013)
It's not easy being at the top of the food chain. In fact, it's downright depressing. And it hurts, too. After all, it's not the lion's fault that the gazelles don't trust him. And the great white shark? Well, he's just misunderstood. The timber wolf doesn't even stand a chance, what with all those stories floating around about his big, sharp teeth. What's a respectable carnivore supposed to do? Form a support group, of course. And… go vegetarian! Not surprisingly, eating leaves, bark, berries, and seaweed only goes so far. When the friends finally call in the oldest and wisest carnivore they know, life turns rosy again. After all, "I'm not bad," whispered the lion. "Eating meat is just what I do!" Kids and parents will giggle through this rowdy read-aloud!
FROG TROUBLE – songs and illustrations by Sandra Boynton (Workman Publishing, 2013)
This book and accompanying music is just plain fun! Check out the video, "The Making of Sandra Boynton's FROG TROUBLE"  for a behind-the-scenes look at the music and story.