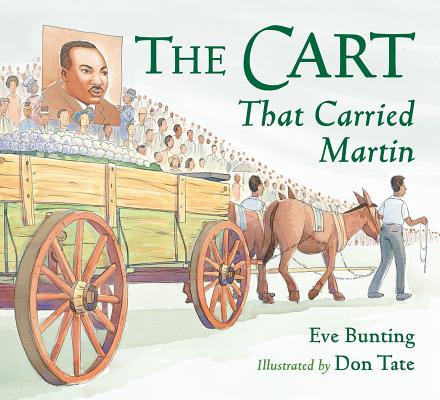 THE CART THAT CARRIED MARTIN by Eve Bunting, illustrated by Don Tate.
Martin Luther King Jr. used his peaceful words to help bridge the cultural and racial divide between African Americans and American Caucasians. He dedicated his life to making the world a better place and to teach love, equality, and acceptance in the hearts of those who feared and felt hatred. Eve Bunting and Don Tate have collaborated to bring us the story about the "humble cart that, not so long ago, carried greatness." It is a poignant tale that pays tribute to the late reverend and how the American people honored Dr. King. Bunting tells us how an old cart was chosen, painted the color of green grass, and the mules named Belle and Ada picked to carry it through the streets of Atlanta, Georgia as thousands of mourners looked on.
We spoke with illustrator Don Tate and asked him to share his thoughts with young readers about this book and the powerful emotions it stirred within him.
ReaderKidZ: How did you come to illustrate The Cart That Carried Martin? Had you heard about this story before Eve Bunting brought it to the attention of Charlesbridge Publishing?
Tate: I learned about the book while finalizing illustrations for Duke Ellington's Nutcracker Suite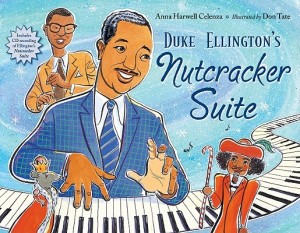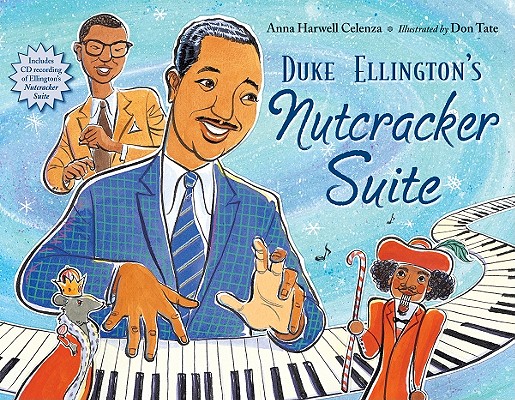 (Charlesbridge, 2011). My editor for that project, Yolanda Scott, inquired about my interest and availability for the Eve Bunting book, and I was on board immediately. Then she told me about the subject matter: The day of Dr. King's funeral, with a focus on the cart that carried his casket. I paused. 
After reading the manuscript, however, I fell in love with the story. It was unique. I could think of many children's books about Dr. Martin Luther King, Jr., but I couldn't think of another story that addressed his funeral. It was a momentous day. 1,300 people crowded into the service at Ebenezer Baptist Church. Between 50,000 and 100,000 followed behind the wooden cart that carried his casket. It was a three-and-a-half-mile procession that led past the Georgia State Capitol building to a second ceremony at Morehouse College. I was awestruck by the photographs, and surprised the story hadn't been told before as a children's book.
ReaderKidZ: What emotions stirred within you in taking on this project? Did you feel any greater sense of responsibility? Any added pressure that you put on yourself to do it justice?  
Tate: For this book, I experienced the full gamut of emotions, from deeply sad to happy and inspired. Sad about what happened to a great man. Happy and inspired by the change he created for black and white people.
I scoured the internet for pictures of the procession. Surprisingly, there was no shortage of images of the procession (The Atlanta History Center also has a wonderful online archive with aerial views). I collected thousands of photos — the wooden cart, people in mourning, Dr. King lying in his casket. Some days I was left downright depressed. And yes, because the subject dealt with Dr. Martin Luther King Jr., I felt a greater sense of responsibility. It's a sacred topic. I feared getting something wrong.
The story begins by picturing the cart in front of an old antique store where two men found it. Hard as I tried, I could not find a photograph of the exact antique store. I had to use some creative license there, and I fretted about that. A researcher at Georgia State University library, however, helped me to locate the area of town where the store likely existed.
My style of illustration was one of the main reasons I was chosen to illustrate this book. While I try not to have a so-called trademark style, my art tends to be light, playful, whimsical, and some have even described my art as cartoony. I worried at first if my art style would mesh well with the subject matter. Later I came to realize my style was exactly what the story needed to lighten things up.
ReaderKidZ: What story did you want to tell through your illustrations?
Tate: The book is about the day of the funeral. It doesn't delve into King's life or why he was such an important historical figure. And that's okay; there are plenty of books out there that deal with all of that. This book demonstrates the sheer numbers of people who came out to celebrate King's life. It demonstrates the love and reverence people felt for this man. It also exemplifies the virtue of being humble. I strove to capture all of that through my illustrations.
I created the illustrations with acrylic gouache on watercolor paper. I worked quick and loose. For accuracy, I visited the Martin Luther King Jr. National Historic Site where the cart is on display. I took lots of pictures of the cart, as well as the historic Ebenezer Baptist Church, recently restored to the way it looked back in the 1960s.
ReaderKidZ: What do you hope children of all cultures find inside this book?
Tate: In one of my favorite scenes from the book, the reader sees the funeral procession, the widow and the family, from above. There are thousands of people in the scene, so obviously I couldn't paint the details of every little face. What the reader will notice are the various skin tones of the people in the crowd. Everything from dark brown to fair white. Dr. King and the things he fought for, his beliefs — his dream — it was not a black thing. His dream was for everyone. I hope all that came through in the art.