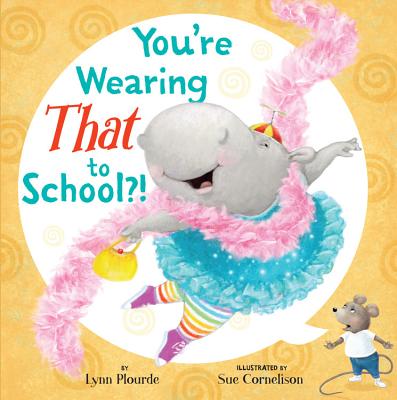 Guest Post by Diane Kress Hower
Penelope, the hippo knows exactly how she wants to approach her first day of school until her older, wiser friend, Tiny, tells her the importance of blending in. YOU'RE WEARING THAT TO SCHOOL!?! boldly addresses embracing uniqueness and what might happen if you stand out from the crowd.  Will Penelope ignore or follow the advice given to her by her seasoned friend? Illustrator, Sue Cornelison brings to life author Lynn Plourde's characters with playfulness and dynamic expression.  The juxtaposition of size, age, and personality make this book a stand-out, just like Penelope!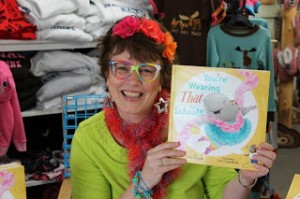 YOU'RE WEARING THAT TO SCHOOL !?! is a 32-page picture book, perfect for the starting school forthe first time or changing schools.  Ages 5 through 8 will enjoy this story.  The themes are friendship, uniqueness, fitting-in, peer pressure, starting school or a new school, and being yourself. It will make a great book for your classroom or the library.
I give this book 5 apples, top of the barrel. Lynn's exuberance for word play and writing children's books along with her public school work as a speech and language pathologist makes this a must-read for the start of the year, every year.
Diane Kress Hower is a children's author/illustrator from Colorado. Her background as a child development specialist, school counselor, and psychotherapist offers a perspective on children's literature through both professions. When Diane is not writing/illustrating/ or supporting students in remedial reading, she volunteers as the Local Area Coordinator for the West Slope, Rocky Mountain Chapter of The Society of Children's Book Writers and Illustrators, and as a Commissioner on the City of Grand Junction, Commission on Arts & Culture.
What are some of you favorite books about celebrating differences? Please share them in the comments. Thanks!