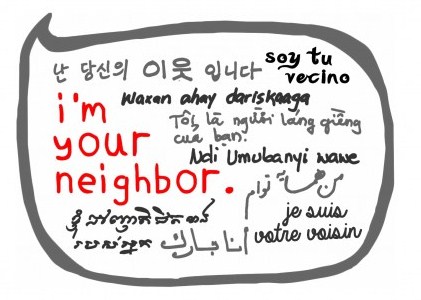 Children are children. Whether they wear a turban or track shoes, they share the same human need for a sense of belonging, acceptance, and understanding – no matter what culture they hail from. Well-crafted books are the place in which a bridge of cultural understanding can be established. Most especially, books crafted with America's refugee population or "New Arrivals" in mind – a timely new genre in the KidLit world.  Farhana Zia's The Garden of My Imaan is a fine example of this important genre.  
To provide a national resource for the "New Arrivals" genre, consultant Kirsten Cappy of Curious City, secured support through Wheaton College (Norton, MA) in the form of a summer intern, Delanie Honda, to build the database of refugee children's literature, www.ImYourNeighborBooks.org.  The website features a recommended list of books and an evolving repository of engagement projects for educators, librarians, and community organizations who seek to use literature to build bridges between new arrivals and long-term communities.
It's a small, small world and we're all neighbors, aren't we? So why not read about each other, learn about each other, and come to understanding for one another, and maybe….just maybe…develop a friendship with one another!
"The true meeting takes place when the book opens, and a stranger reads about — and comprehends — a stranger."                              –Amit Majmudar, Author