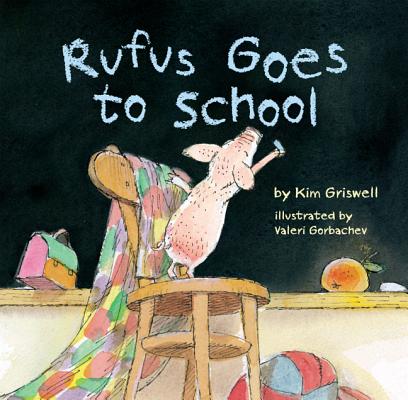 Whether your child is beginning school for the first time or a seasoned veteran, nothing says back-to-school better than books. We hope you'll check out the titles we've selected to mark this event! 
RUFUS GOES TO SCHOOL By Kim T. Griswell, illustrated by Valeri Gorbachev.
Griswell has created the perfect character and companion for young children and a story that balances heart and humor on every page. Rufus Leroy Williams III wants to attend school. Unfortunately, he's met with resistance from Principal Lipid and his steadfast rule, "no pigs in school." Armed with a trough-full of charm, Rufus is bound and determined to show the principal he's in the right place. After all, he's equipped with all the right tools: a backpack, a lunchbox, and a blanket for nap time. None of these items persuade Principal Lipid until Rufus reveals his dream to learn how to read his favorite book. Gorbachev's watercolor illustrations add the right amount of light and emotion to enhance the story. For young children about to embark on their own educational journey.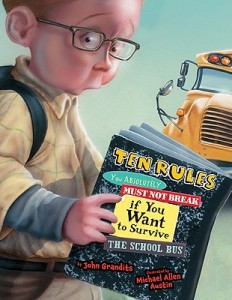 TEN RULES YOU ABSOLUTELY MUST NOT BREAK IF YOU WANT TO SURVIVE THE SCHOOL BUS by John Grandits, illustrated by Michael Allen Austin
Poor Kyle is dreading riding the school bus for the first time. According to his big brother, riding the bus could see him laughed at or yelled at or pushed or pounded. Kyle wants to avoid any confrontations on the bus – especially running into a bully who's the size of a grizzly bear. So Kyle tries to act like his big brother and follow his set of rules: never sit in the last row, never, ever make yourself stand out in any way, and never make eye contact. But when it comes to rule number ten, Kyle throws caution out the window and steps off the school bus in a better place.
Being that I'm the oldest sibling in my family, I can relate to the sibling advice but what I loved most about this story was seeing Kyle emerge from his shell and forge his own path. Grandits' humor is contagious and Austin's acrylics intensify the conflict. For ages 5 -8.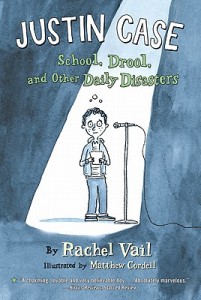 JUSTIN CASE: SCHOOL, DROOL AND OTHER DAILY DISASTERS  by Rachel Vail, illustrated by Matthew Cordell 
Justin Case is the most worrisome kid you'll ever meet. If his stuffed animals could talk, they'd agree. He's a nervous wreck about starting third grade. His new teacher gives out "Superstar" stickers for good behavior except that no one knows what the rules for good behavior are except Ms. Termini. If Justin were brave he'd ask her to clarify these "unfair" rules, but he's afraid of everything: his new teacher, sports, math, pajama day, the bullies, gymnastics – even his own dog, Qwerty. Each situation he encounters has him imagining the worst possible outcome. But by the end of the school year, he's facing his fears and meeting his adversaries head on. It just so happens, Justin is more heroic than he thought. Vail cleverly chronicles a "year in the life" of third grade. Outrageously bizarre and funny. Cordell's illustrations accentuate Justin's neurosis and tug at your heart.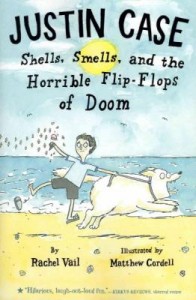 JUSTIN CASE: SHELLS, SMELLS, AND THE HORRIBLE FLIP-FLOPS OF DOOM by Rachel Vail, illustrated by Matthew Cordell
Also be sure to see how Justin survives the summer before fourth grade! Both novels are for ages 7 – 10 whether you sleep with a stuffed animal or not.