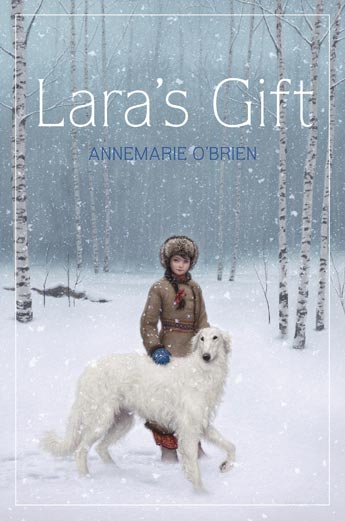 Lara's Gift (Knopf, 2013), written by Annemarie O'Brien, is the type of book that will find a lasting place in the hearts of contemporary children and those who care for them. This timeless tale, loaded with family tradition and pride, takes place in snow-bound Russia during the early 1900's. There we find a young girl named Lara whose passion is to follow in her father's footsteps by caring for the Tsar's majestic borzoi, in incredible breed of dogs unlike any other in the world.  Though tender and seemingly meek, this protagonist's tenacity is strong enough to confront self-doubt, danger, and even her father's stern will…all for the love of the borzoi.
As a complimentary reading supplement, Annemarie is offering a Discussion and Activity Guide, in which the lessons have been aligned with the Common Core State Standards. She invites you to use the guide to identify with Lara's experience by completing activities such as journaling, craft creating, poetry writing, as well as enjoying videos that help in connecting with the unforgettable story's time and place.
…for every borzoi birth was a gift from God (1).