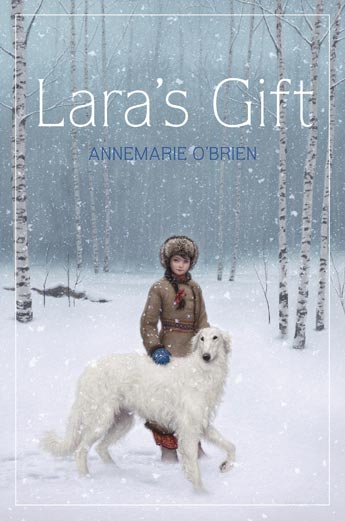 LARA'S GIFT, released on August 6 by Knopf, is about a young girl in Russia in the early 20th century, and her love of dogs–Russian Borzoi to be exact.
The men in Lara's family have been the kennel masters for Russian Count Voronstov for many generations, breeding and keeping the Borzoi hunting dogs. Lara has helped her father since she was very young, and has a gift for working with the dogs. She wants more than anything to become the next kennel master. But this is an honor only passed from father to son. Lara has another gift. She sees encouraging or terrifying visions of the future. These frighten her father and he makes Lara promise never to use her sight. Then Lara's mother gives birth to a son. Her father wants Lara to learn something useful like sewing so that she can be married off.  A special friendship (might it become more?) with the charming Count's son who shares Lara's love for the Borzoi may help her achieve her goal. The story is both old-fashioned and thoroughly modern, with action, romance, and really scary wolves. A fabulous read for ages 9 and up
Annemarie, why did you choose this time period in which to set LARA'S GIFT? Did you do research in Russia?
While I don't have first-hand experience living in Russia during the Imperial era, I did spend about ten years of my early adult years living and working in Russia during the Gorbachev years. So the setting is something I have experienced and studied extensively. I've also read tons of Russian literature and books on Russian history, as well as immersed myself in the culture and language.
I actually wanted to set this story up in the Gorbachev era, but realized after reading TAMAR by the brilliant Mal Peet, that I needed to start my story much earlier to give readers a deeper perspective on the significance of borzoi in Russian history.
Why did you choose these dogs to write about? As a breed, how do they differ from others?
In 1989 while I was working in Moscow, Russia, I was gifted a borzoi puppy. Her name was Dara, but I called her Dasha. Through her, and the challenge I had bringing her back to the United States, I oddly learned the history of the breed and was amazed at how much it mirrored the history of Russia. I knew then that there was a story I wanted to write. I just wasn't sure where to start the story.
Borzoi are very different from any other dog I have ever had (a spaniel, retriever, dane, and a tervuren). Borzoi are often aloof and really don't need the kind of affection my retrievers had needed from every single person that walked by. Borzoi have a keen sense of character. I used Dasha as my barometer whenever I met someone new. If Dasha took to them, then I generally would, too. Dasha was gentle and never jumped up on anyone unless invited. Borzoi hunt by sight and Dasha was no exception. She was crazy about running after anything that moved, even a little speck in the horizon miles away. Borzoi are also great running partners!
Do you think humans need dogs? Why or why not?
I think everyone could use a best friend and unconditional love.
Learn more about Annemarie O'Brien and her real life dogs on Monday!
Leave a comment and share this post on some social media platform to win a copy of LARA'S GIFT. For every share or comment, your name will be entered into the pot. The winner will be drawn and announced August 30.
Congratulations to Teresa Burks – winner of the LARA'S GIFT book draw!
For more information about LARA'S GIFT, check out Annemarie O'Brien.
Link here for a Teacher's Guide and here to view the Book Trailer