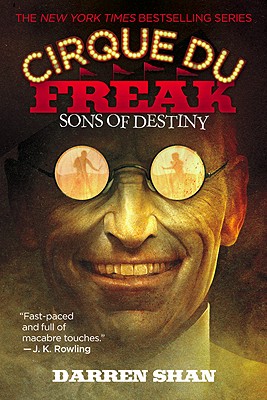 Marcel (Age 11) recommends this chilling series.
Author: Darren Shan
Who might enjoy this series? Kids who enjoyed the Harry Potter series. These books are scary and very suspenseful – not your sunshine and lollipops type of books.
If you're ready to be haunted page after page, book after book, Darren Shan's series is precisely what you're looking for, according to Marcel. School Library Journal agrees with him in saying, "Shan creates heart-pounding, page-turning action that will keep readers reading." Sounds like super summer reading, doesn't it?
The back flap of Book One, Cirque du Freak: A Living Nightmare, reads, "This is a true story. I don't expect you to believe me – I wouldn't believe it myself if I hadn't lived it – but it is. Everything I describe in this book happened, just as I tell it…I just wanted to make that clear before I began." Knowing this makes Cirque du Freak: Sons of Destiny, the twelfth and final book of the series even more compelling. Indiebound states that, in Sons of Destiny, the time has, "…finally come for protagonist Darren Shan to face his archenemy, Steve Leopard. One will die. The other will become the Lord of the Shadows – and destroy the world!" Kind of a definite ending, wouldn't you say?
Read the Cirque du Freak series this summer, if you dare. And, if you do, keep the hall light on all night, won't you? Boo!