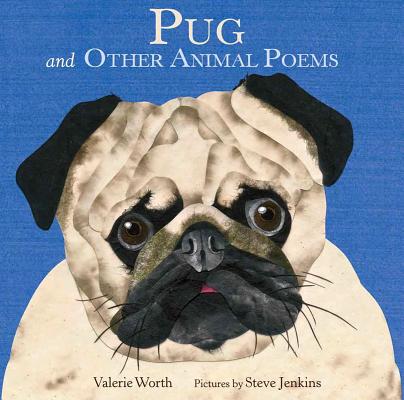 PUG AND OTHER ANIMAL POEMS by Valerie Worth, pictures by Steve Jenkins (Margaret Ferguson Books, 2013)
Fans of Valerie Worth's all the small poems and fourteen more will enjoy her second posthumous collection. I have many favorites, each with Worth's striking observations. Here's a snippet –  from "Toads":
Wells around the
Cellar windows…
Holding a clutter
of leaves,…
and
Sometimes…
Leathery
Lumps of
Earth with
Gilded eyes.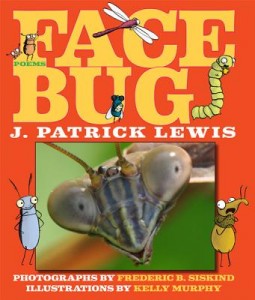 FACE BUG by J. Patrick Lewis, photographs by Frederic B. Siskind, illustrations by Kelly Murphy (WordSong, 2013)
Kids are fascinated with bugs and what child or adult hasn't stopped to marvel at the interesting faces of these fascinating creatures? J. Patrick Lewis' kid-friendly sensibilities choose just the right features, focusing, for example on the stingbug's "uncommon scents" – "Yes, you're the clever creature/That everybody thinks/Is quite a thing of beauty,/But sometimes beauty stinks." Paired with Siskind's bug face close-ups, and Murphy's additional illustrated narrative, this is a book children will want to linger over.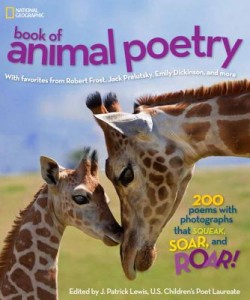 National Geographic BOOK OF ANIMAL POETRY, edited by J. Patrick Lewis
Anthologies with large themes such as "Animals" are a thrilling find for a classroom teacher, and this collection is no exception. With categories such as, "the big ones", "the little ones","the strange ones", and "the quiet ones" this book has everything. Robert Frost, Christina Georgina Rossetti, Alice Schertle, Kristine O'Connell George, and Rebecca Kai Dotlich are just of few of the stunning poets of over 200 children's poems about the animal kingdom. Photographs from National Geographic add to the magic.