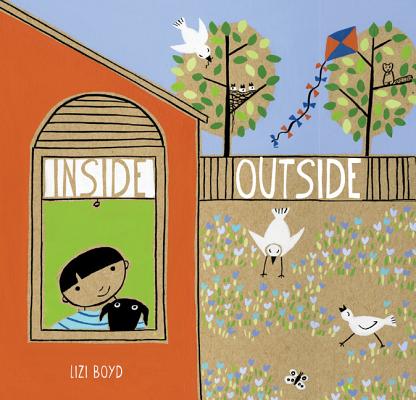 Enjoy this peek at three new concept books, recently out from Chronicle.
INSIDE OUTSIDE by Lizi Boyd (Chronicle 2013)
Inside his cozy home, a boy works at a desk, a dog hides, two mice play together on the floor. Through the window (a die-cut), the reader watches two snowmen. What are they doing? Turn the page…outside, the puppy helps the boy roll a big snowball, birds track across the snow, all join in on the fun.
This delightful wordless book invites readers to explore, look long, savor each page. Can you find the two mice playing throughout? A cat? The turtle?
It's really charming. I can easily see a K-1 teacher using this book as an entrée to shared writing and storytelling.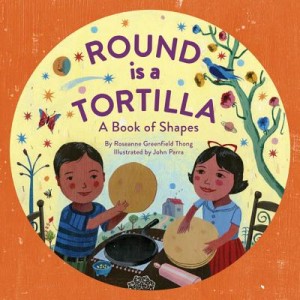 ROUND IS A TORTILLA: A Book of Shapes by Roseanne Greenfield Thong, illustrated by John Parra (Chronicle 2013)
Shapes are all around us. The round circle moon, square letters on a board game, crunchy chips in the shape of triangles: "Round are tortillas and tacos, too./Round is a pot of abuela's stew. /I can name more round things. Can you?" Spanish is seamlessly sprinkled throughout and Latino-themed objects add an additional layer of meaning to these universal concepts. Enjoy this book with a kindergartener or 1st grader.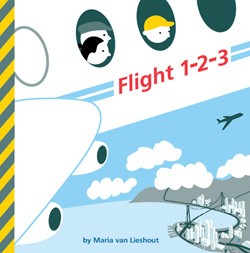 FLIGHT 1-2-3 by Maria Lieshout (Chronicle 2013)
This book is really for the youngest ReaderKidZ – those who aren't quite old enough to grace the doors of a Kindergarten class. But what I like about it, is the way it very simply introduces a child to the busy world of the airport. Taking a trip with young ones this Spring? You should check out this book. With few words, and clean, crisp illustrations, this book will escort readers through the airport – from the front door, to the check-in desk, through security, the gate, and beyond!