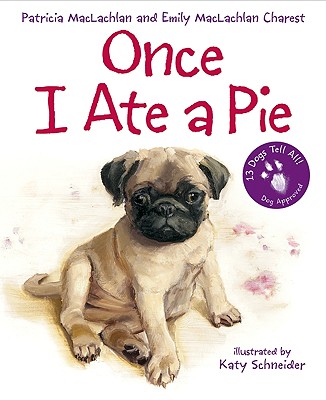 Poetry doesn't have to be "roses are red, violets are blue…" As David Lubar wrote in his novel, Sleeping Freshmen Never Lie, "There are as many types of poems as there are types of food. As many flavors, you might say. To claim you don't like poetry because you hate 'mushy stuff' or things you don't immediately understand is like saying you hate food because you don't like asparagus."
April is National Poetry Month, but don't save these wonderful books for just one month – share them all year long!
For the youngest readers:
Once I Ate a Pie written by Patricia MacLachlan and Emily MacLachlan Charest, illustrated by Katy Schneider (HarperCollins, 2006) Animal lovers will adore these short, sweet dog poems. My favorite is about a terrier: "Wupsi"
"My name is Wupsi, but they call me 'cute.'
'Who's cute?' they ask, smiling.
I cover my eyes with my paws and pretend to sleep.
'Who's cute?' they call again.
I run to them. I can't help it.
I am cute."
For the transitional readers: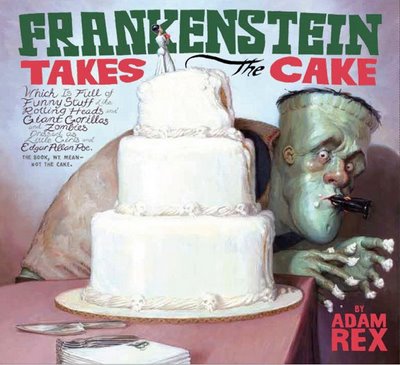 Frankenstein Takes the Cake Which is Full of Funny Stuff Like Rotting Heads and Giant Gorillas and Zombies Dressed as Little Girls and Edgar Allan Poe. The Book, We Mean – Not the Cake written and illustrated by Adam Rex (Harcourt, 2008) You can tell just from the title how over-the-top ridiculous this collection of monster-themed poetry is. From "Off the Top of My Head: the Official Blog of the Headless Horseman" whose first post is "Please Stop Staring at My Delicious Head" to "Dracula, Jr. Wants a Big-Boy Coffin", all your favorite monsters are here in fantastically funny form.
For the older readers: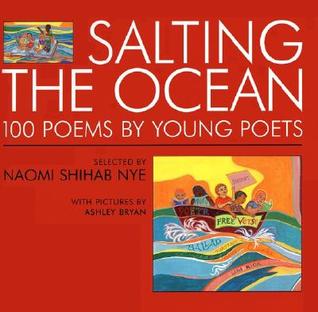 Salting the Ocean: 100 Poems by Young Poets selected by Naomi Shihab Nye with pictures by Ashley Bryan (Greenwillow, 2000) Celebrated poet Naomi Shihab Nye taught classroom poetry workshops for over 30 years and this is a collection of works from 100 young poets in grades one through twelve.  Most of the poems are free-verse, personal and imaginative. It's a tribute to and an inspiration for the poet found in all of us, no matter what our age.