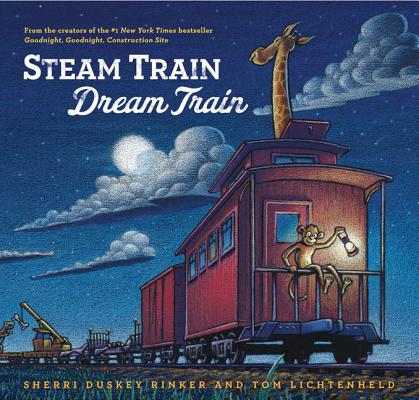 STEAM TRAIN, DREAM TRAIN by Sherri Rinker, illustrated by Tom Lichtenheld (Chronicle, 2013)
From the bestselling team that created Goodnight, Goodnight, Construction Site, Steam Train, Dream Train invites readers aboard the mighty dream train as it cling-clang-squeals into "Night Falls." While monkeys juggle cargo, and kangaroos work – and bounce – the night away, elephants converge on tankers with buckets of paint, and polar bears "chill out" with a midnight snack in the reefer box.
Sometime near dawn, the animal crew,weary and tired from their busy evening, fall into bed. In no time at all, they're tucked in tight, and the dream train is huffing and chugging down the track again. This soothing twist on the usual bedtime story will be a favorite among many young readers.