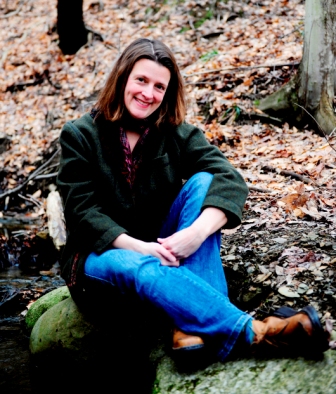 This month, ReaderKidZ is delighted to feature poet Amy Ludwig VanDerwater and her beautiful new book, FOREST HAS A SONG, illustrated by Robbin Gourley.
Did you ever get into trouble at home or school?
A little bit.  I was a chatty and messy one, and I used to fight with my sister Heidi.  Now she and I are great friends, but I'm still chatty and messy.
Did you have a nickname and if so what is it?  Is there a story behind your nickname?
When I was a baby, my parents called me Doober because I was always drooling and smiling.  Sometimes silly nicknames just stick, and this one did…but only inside our house.  (I can't believe I just told you this.)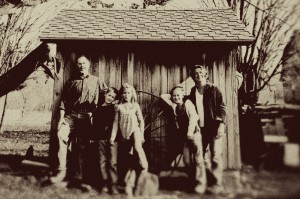 Amy's Family
Why did you become a writer?  What would you be otherwise?
Writing is one way to be a maker.  About 15 years ago, I decided to stop trying to make every kind of craft (stained glass, oil painting, quilting…) and to focus on becoming good making one thing – writing.  I am a teacher too, and that's another thing I've always wanted to be, just like my mom and grandma.  I'd love to be an artist too.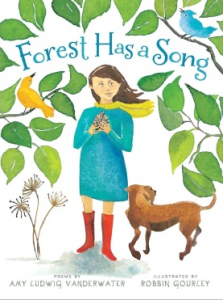 What's the hardest part about writing a book? How long does it take?
I think the hardest part is believing that I can do it.  But like anything else, this is just about work.  If I sit and make myself move my pen – even when I don't have ideas – ideas will come.  It's about trust. Ideas come to those who trust them to come.

Amy's desk with a cat (Sarah) on top
Do you have a special place where you write?
I write in a lot of different places, and that's one thing I love about keeping a notebook – it goes with me.  Sometimes I snuggle up on the floor by our heater, pressing my feet against its warmth as I write.  Sometimes I write in bed or at my great desk or on the couch or at the kitchen table or in a restaurant or even in the car!  Sometimes I lie in the grass outside and listen to the birds while writing.  When I write poems, I mostly write in a notebook first.  Then, I do final edits on my computer.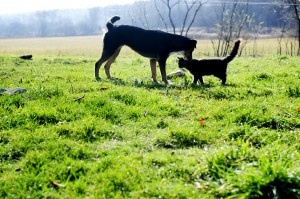 Amy's pets
What one thing can you tell readers that nobody knows?
I have always loved taking walks in old graveyards. 
For more about Amy, visit her website HERE and her amazing poetry blog, The Poem Farm, HERE.