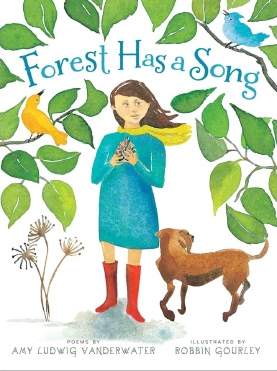 This month, ReaderKidZ is delighted to feature poet Amy Ludwig VanDerwater and her beautiful new book, FOREST HAS A SONG, illustrated by Robbin Gourley.
 I grew up in the suburbs, in the town of Vestal, NY, in a house that backed up to what we called "the weeds."  These were fields of goldenrod, Queen Anne's Lace, and chicory.  My sister Heidi and friends I played in the ditches and among the plants, patting down the stems to make our own forts.  Way behind our house lay some concrete culvert pipes, and we would crawl in and around those too.  There was a huge tree, and lots of space to play.  Once we even tried to dig our own in-ground pool in the rocky earth.
When not playing outside, I loved making things.  My mom says that I was always making little houses for things: caterpillars, small glass bunnies, stuffed dogs, anything.  I spent lots of time drawing and making crafts, and I liked making a cozy place in my closet where I played elevator and read.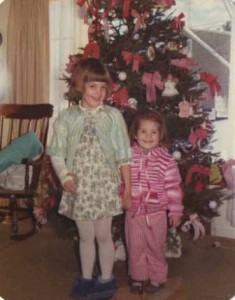 Heidi and Me, 1976
As for writing in my family, my great-grandfather was a poet and doodler, and I am happy to have some of his poems and writing.  My grandmother loved writing too; she even wrote a poem to the nurses on the maternity ward when my mom was born.  And my grandfather wrote long letters home from World War II; I have these scrapbooks and like to go back and read about that time, to wonder about this man I never knew.
I was fortunate to have a beautiful childhood full of happy memories of camping and lemonade, nighttime prayers and play.  And I invite these memories back when I write.
Check back here Friday to see what Amy had to say about how she did in school, where she writes, a photograph of her husband and children, and even about a secret that very few other people know.
For more about Amy, visit her website HERE and her amazing poetry blog, The Poem Farm, HERE.