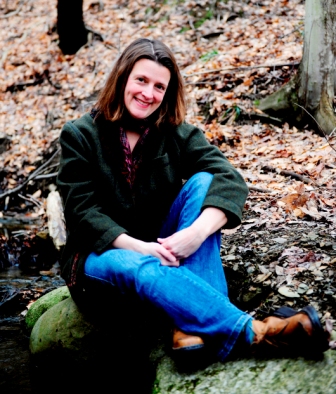 Poetry: the language of childhood. Celebrate National Poetry month with ReaderKidZ and author Amy Ludwig VanDerwater.

Poetry is the language of childhood. It crosses borders and cultures and encourages children to see the world with fresh eyes. From the memorable rhythm of early readers such as Brown Bear Brown Bear and  Hand, Hand, Fingers, Thumb,  to the jaunty rhyme of hand clapping games such as "Miss Mary Mack," the finger plays of preschool circle times, the "picking sides" chants of the playground, and the traditional songs and poems of Mother Goose, poetry can be found everywhere. It speaks to all of the parts of who kids are, allowing ears, eyes, bodies, and senses ample opportunity to savor words, play with language, and discover the world in fresh, unique ways.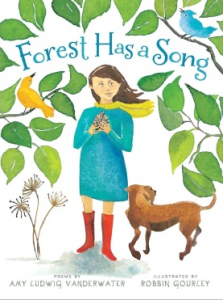 This month, ReaderKidZ is delighted to feature poet Amy Ludwig VanDerwater and her beautiful new book, FOREST HAS A SONG. Charmingly illustrated by Robbin Gourley in sometimes vivid, other times soft, watercolor, VanDerwater's poems sing and whisper and tiptoe their way through the forest in appreciation of all four seasons. No creature is ignored: from a baby owl who's afraid to take its first flight, to the tiny animals who make their home in a rotten log, to spiders and puffball babies and lichens and squirrels … to the tracks in snow that tell the forest's news, and the little girl crouched behind a tree, waiting to see a deer – it's all here. Each poem is an ode to the magic and wonder of a forest as only a child sees it.
An excerpt from the title poem "Song"
Winds whip.
Geese call.
Squirrels chase.
Leaves fall.
Trees creak.
Birds flap.
Deer run.
Twigs snap.
And don't forget to stop by later this week to read Amy's interview and "Letter to Readers," and to enjoy a Tool Box post that accompanies FOREST HAS A SONG.