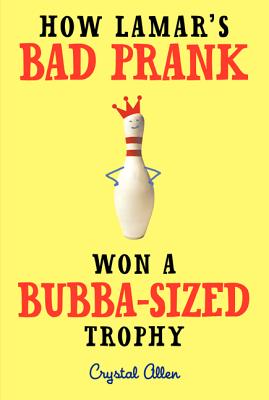 HOW LAMAR'S BAD PRANK WON A BUBBA-SIZED TROPHY by Crystal Allen (Balzar & Bray, 2011)
Lamar Washington is the "maddest, baddest, most spectacular bowler ever." All he wants is to spend his days playing the best (and only, due to his asthma) sport there is – bowling! What could be better than a day at Striker's, kicking back with his best friend, Sergio, and figuring out how to get the most beautiful girl in the bowling alley, Makeda Phillips, to look his way?
But it's not all strikes and spares for Lamar. Since his mother passed away, Lamar often feels as if his Dad has forgotten about him, choosing instead to pour all his time and energy into Lamar's older brother, Xavier, "the basketball savior." If that weren't enough, it isn't long before Lamar, in an effort to earn a few bucks and buy the expensive "Pro-Thunder" ball used by his all-time favorite professional bowler, Bubba Sanders, finds himself messed up hustling games with bad boy, Billy Jenks. A series of bad decisions later and Lamar is in the middle of a heap of trouble, not only with dad, but with Sergio, Makeda, and his local town's Accountability Board. Will Lamar be able to redeem himself and find his way back to family, friends, and the sport he loves best?
Laugh-out-loud humor, juxtaposed beside poignant and the often-times difficult situations makes this upper grade novel a story with heart.