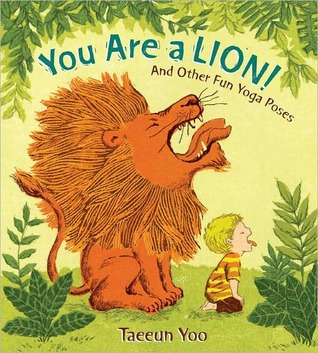 I'll be the first to admit that my favorite sport is reading, but that doesn't get me outside and off the couch very much. Use some of these suggested books to help children exercise their minds while discovering some less familiar sports that may inspire them to try something different.
For the youngest readers:
You Are a Lion! And Other Fun Yoga Poses by Taeeun Yoo (Nancy Paulsen Books/Penguin, 2012)
Yoga is a great way for little ones to learn to relax, remain calm, and focus while releasing pent up energy. Seven safe and easy poses are introduced as children mimic a parade of animals. Alternating spreads, illustrated with warmly colored block prints, show children clearly demonstrating the steps required for each pose, followed by another double page spread of the child doing the pose with an appropriate animal. Simple verse encourages the reader to flutter like a butterfly, hiss like a snake, and engage in other actions.
For the transitional readers: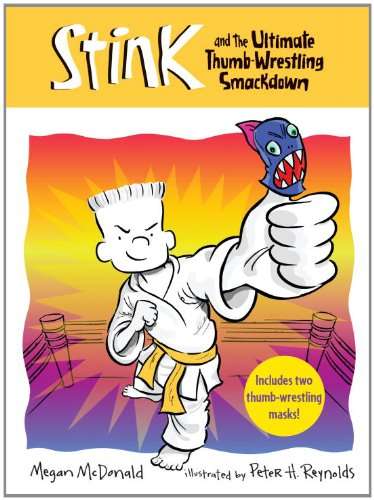 Stink: The Ultimate Thumb-Wrestling Smackdown by Megan McDonald and illustrated by Peter H. Reynolds (Candlewick, 2012)
When Stink gets an unsatisfactory in physical education on his report card, he looks for a sport in which he can excel. Protesting that his small size means he'd probably get hurt playing football or other sports, he explores options like pogo badminton and unicycle hockey before trying thumb wrestling. You'd be surprised how many moves there are in the sport! Eventually Stink decides he's not very good at thumb wrestling and decides to try karate, which turns out to be a good decision. With a lot of humor and wordplay, readers discover that there is something out there for everyon
For the older readers:
Rush for the Gold: Mystery at the Olympics by John Feinstein (Knopf, 2012)
Combining sports and mystery, this series takes readers inside major sports venues for a behind the scenes look at the action and drama. In this installment, Stevie Thomas and Susan Carol Anderson go to the summer Olympics. But instead of reporting on the events, Susan Carol will be a fifteen-year-old competitor swimming in a pool in London. Can she get ready in time? Readers follow her preparation as she moves from competent swimmer to world-class athlete and discover how she deals with the potential fame and fortune. But is the pressure to win leading to rigging the results? In a story peppered with real people, like Michael Phelps and the Queen of England, that's the mystery Susan Carol and Stevie must solve.