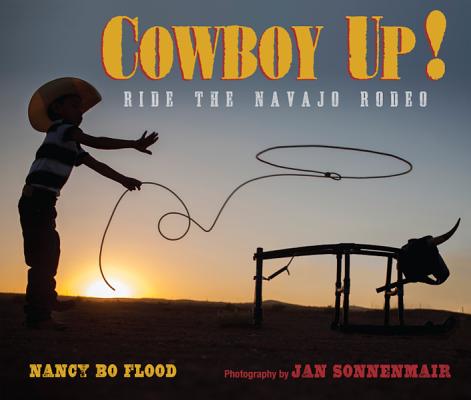 This month ReaderKidZ is thrilled to feature Nancy Bo Flood and her beautiful new picture book COWBOY UP! Ride the Navajo Rodeo (WordSong, 2013)
An excerpt from a School Library Journal early review (April 2013) –
 The history and tradition of the Navajo rodeo are made lively and accessible in this "day-in-the-life" account. Short narrative poems accompany each spread, recounting the anticipation, determination, danger, and excitement of the day…

Warm and inviting, the book gives a real sense of what it's like to be a part of the Navajo rodeo. A top-notch introduction to a unique event.
-Madeline J. Bryant, Los Angeles Public Library
For a chance to win a free signed copy of COWBOY UP! Ride the Navajo Rodeo email Nancy through her website HERE or send an email to wflood at hotmail dot com with the words "Rodeo Giveaway" in the subject line. Winners will be announced on Friday, March 22, 2013.

*** CONGRATULATIONS TO OUR WINNERS:  Doris Kemp, Lisa Cremer, Lorrie Mawhinney – Macey and Zane, Portia Pennington, Shannon Wiersbitsky and Shawn Stout. Your books will be on their way shortly!
For more about Nancy Bo Flood and her new book, check out this Interview, Letter to Readers, and Tool Box post.