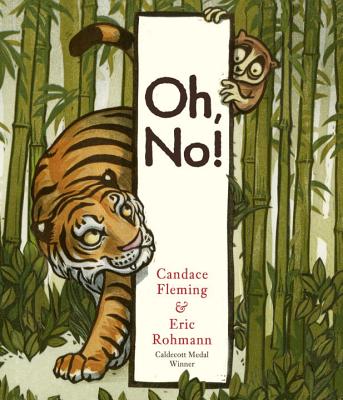 Two books – very funny and imaginative  –
OH, NO!  Who will fall into the deep dark hole next?
OH, NO! (Schwartz & Wade, 2012) a picture book by Candace Fleming delightfully engages a young reader or listener.  With each turn of the page, another animal tumbles into the jungle pit… Oh, no!… with hungry TIGERS lurking oh so close…Oh, no!  The wood-block style illustrations by Eric Rohmann are a delight as usual.  Children will have fun joining in with the playful Oh, no! chorus as tension rises and animals, one by one, continue falling into the pit until — a very fitting end.  Oh, no!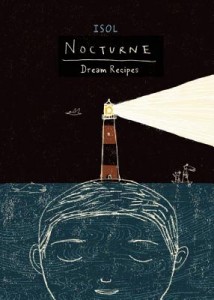 NOCTURNE: DREAM RECIPES (Groundwood Books, 2012) by Isol and translated by Elisa Amado is a unique book that encourages a reader's imagination and sense of play.
This unusual bedtime book hints at the magic inherent in dreaming.  The child chooses a dream from the pictures in the book.  Then turns off the light.  Surprise!
Twelve glow-in-the-dark pictures present possibilities as the hidden world becomes visible. Choose a dream. Imagine what will happen next. Included are dreams such as the dream of the cat who smelled a tuna casserole!
Isol's extraordinary creativity and humor have produced a truly wonderful, very fun, very original book.
Excerpt (from the back cover):
A boring dream is a waste of a night!
In this book you will find adventurous dreams, silly dreams, funny dreams, even slightly scary dreams. All you have to do is follow these instructions:
Choose one of the dreams in the book after reading the titles and looking at the pictures.
Before you go to sleep, open the book to the dream you've chosen, and place it on your night table under a bright light. Make sure you can see the picture when you are lying down.
Turn out the light!
You will see the luminous traces that the dream left behind on the page. Look for as long as you like, then close your eyes and follow the dream to its hiding place.
This glow-in-the-dark book will make sure that no night is wasted. Sweet dreams!