Humor. It's more than joke books. Humor is also very individualized. Some of us have more sensitive funny bones than others and see humor in the oddest places while others don't recognize humor unless it hits us over the head. Humor also comes from many sources. Some authors recall funny incidents from their own childhood and use these memories in books like Megan McDonald does with her Judy Moody series or as is seen in Jack Gantos' Jack books. Slapstick humor can come across as a little bit of bullying and parents sometimes fear their children will emulate some of the hilarious antics, which must of course be contained in real-life, right? Keep readers laughing with these "real life" stories.
For the youngest readers: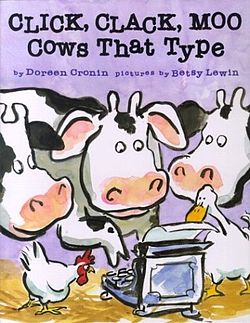 Click, Clack, Moo: Cows That Type by Doreen Cronin and illustrated by Betsy Lewin (Atheneum Books for Young Readers, 2000)
One of my all-time favorite funny books is also the first in a series of equally funny books about Duck and his barnyard friends. The cows on the farm are cold and when they find an old typewriter they use it to type letters demanding that Farmer Brown provide electric blankets. What could be funnier than cows trying to type? (Do cows even have fingers?) They use Duck as their mediator and the comical looks on his face, along with Farmer Brown's exasperated antics make the illustrations as hilarious as the story. This 2001 Caldecott Honor book is also available in Spanish and in a wonderful audio edition, read in a deadpan voice by Randy Travis.
For the transitional readers: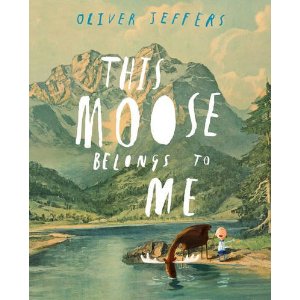 This Moose Belongs to Me by Oliver Jeffers (Philomel, 2012)
The story begins with a very typical childhood desire for a pet and an atypical boy. Seeing a moose wander by one day, Wilfred adopts him and names him Marcel. The two are best buddies, walking and talking and exploring together. Wilfred's life is orderly and rife with rules, including rules related to being a good pet that he tries to instill in Marcel. Marcel does pretty well for a wild animal until Wilfred discovers that his pet has a secret life. Witty text and whimsical illustrations provide a good lesson in independence and compromise while ensuring giggles and guffaws.
For the older readers: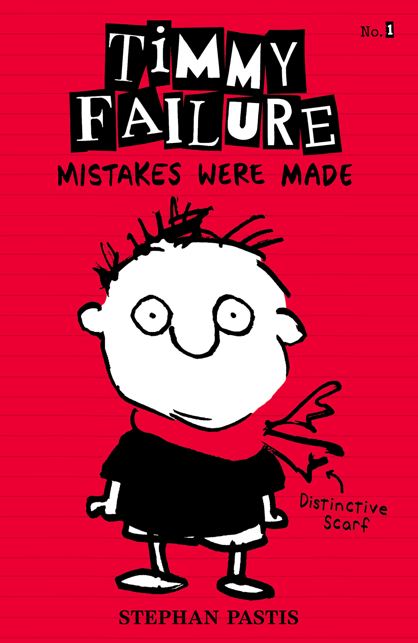 Timmy Failure: Mistakes Were Made by Stephan Pastis (Candlewick, 2013)
The first children's book by the noted creator of the Pearls Before Swine comic strip tells the tale of Timmy Failure, a Walter Mitty kind of kid. Bored with school and miserable in his life, Timmy sets up Total Failure, Inc., a detective agency with the motto "We won't fail, despite what the name says." From his misery comes laughter and of course, Timmy is doomed to failure. I mean, how can an 11-year-old detective with an imaginary 1,200-pound polar bear partner, named Total (as in Total Failure) be anything other than a failure? And how can a story that starts with the line "It's harder to drive a polar bear into someone's living room than you'd think," be anything other than hilarious? Oh, and Timmy tells us that his business partner did the not-so-good illustrations, but I suspect they were not really drawn by a moose. Self-delusion can be very, very funny!