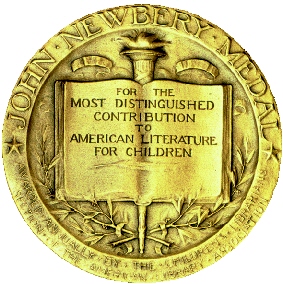 January always signals the height of awards seasons. And every year at this time there is a lot of debate about the winners and the nominees, along with discussion of what was overlooked. Whether it is the Oscars, the Emmy's or the Newbery, we all have to agree to disagree and scratch our heads about the picks and misses. So it's natural to ask: Do awards matter? And why did that one win?
Yes, they do matter. Okay, let me elaborate. Over 20,000 books for  young people are published in English every year. Some are really horrid and poorly written. Most are well-written by competent people. A few really shine and deserve special recognition.
Awards are given by committees and while the emphasis may vary, those people are looking at the breadth of books released in the previous year and culling out the best. Will they miss some? Sure. Will there be disagreement about the final choices? Of course. But the titles that are selected will meet the award criteria and put the spotlight on some of the best books of the year. Those awards usually result in sales and ensure that high quality books stay in print for many years. They help parents and teachers, who rarely have the time to cull through even a few hundred books, select the best of the best.
Some great books by excellent authors and illustrators are overlooked by the major awards and because those deliberations are secret we never know why. But usually an outstanding title will make the cut for one or more awards and "best" lists. Some awards focus more on the literary quality of the book (like the Newbery Award) or the high level of artistic talent (like the Caldecott Award). Other awards, like the Texas Bluebonnet Award, are based more on popularity, although children are voting on titles from a pre-selected list of nominees that were selected for a balance of quality and appeal to young readers.
In using awards to help find good books for kids, the best thing is to look at several. Some awards post lists of nominees or a short list of finalists, while others never tell us what was under consideration. If you want some great juvenile mysteries, look at the Edgar Awards. For distinguished books by and about Latinos check out the Tomás Rivera Award or the Pura Belpré Award. If nonfiction is your thing, the Sibert Award is the place to look. And be sure to read the entire book before you decide that the committee was wrong; the awards are conferred by some pretty smart people who spend hours discussing the merits of each eligible title before making their decision. With few exceptions, time has proven that they made the right choices.
By the way, my Newbery committee choices were Shiloh by Phyllis Reynolds Naylor (1992) and A View From Saturday by E.L. Konigsburg (1997). How'd my committees do?