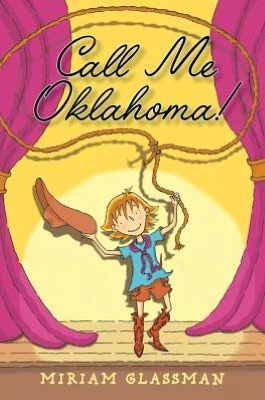 This month ReaderKidZ is thrilled to feature Miriam Glassman and her hilarious new middle grade novel Call Me Oklahoma!  (Holiday House, 2013)
From the flap copy – "From now on, call me Oklahoma!" Paige announces on the first day of fourth grade. She is determined that this year she will be different: someone who is gutsy–brave enough to master terrifying flips on the highest monkey bars, conquer stage fright, and stand up to class bully, Viveca Frye. It takes a lot of work for Paige to bring out her inner Oklahoma, but she's helped along the way by her best friend, her sympathetic teacher, her bratty cousin, and some hilarious but inspiring events at home and at school.
For a chance to win a free signed copy of Call Me Oklahoma! email Miriam HERE or send an email to mgglassman at gmail dot com with the words "Oklahoma Giveaway" in the subject line. Winners will be announced on February 28, 2013. *** CONGRATULATIONS TO OUR WINNERS: Portia Pennington, Tealena Felix, Carol Baldwin, and Karen Jameson. Your books will be on their way shortly!
For more about Miriam Glassman and her new book, check out this Interview,  "Letter to Readers" and Tool Box post.