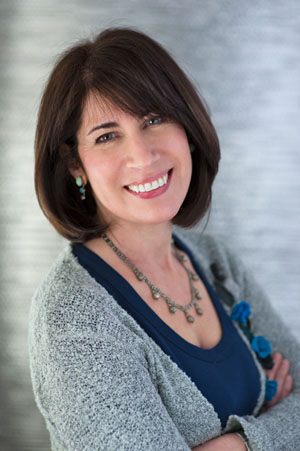 To kick off our month of celebrating humor, ReaderKidZ is thrilled to welcome Miriam Glassman and her hilarious new middle grade novel Call Me Oklahoma!  (Holiday House, 2013)
I feel lucky to have grown up in a family that loves to laugh. Some of my family members are great at telling jokes and funny stories; others are great at doing impressions, or making wise-cracks. One of my earliest memories is of my dad bouncing me on his knee while singing silly songs from the 1940's. Sometimes the songs made me laugh so hard, I fell right off his lap…not so funny! Well, maybe a little.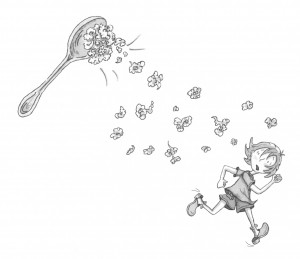 We lived in a suburb outside New York City, and it was always exciting to go into the city and see the dinosaur skeletons at the Museum of Natural History. My mom loved the theater and for me, the best treat was when my older brother and I got to go along, too. But we also knew how to make our own fun. When our parents went out, we played Cottage Cheese Monster, just like the kids do in Call Me Oklahoma! My brother claimed that eating a spoonful of cottage cheese turned him into a monster, and then the monster would chase me all around the house. It was great!
My parents often played music in the house, especially soundtracks from musical theater. I enjoyed them so much, I would sneak the records up to my room, close the door, and act out all parts. My favorite was "Peter Pan," and I'd jump from my bed and dresser, pretending to fly. Pretending was one of my favorite things to do, and it led to a love for acting. Even though I was kind of a shy kid, I always enjoyed performing.
When I was in the fifth grade, my parents got divorced, and I had to switch schools. At first, I was  confused by the building and the schedule. One day, the teacher told us to line up with our notebooks. I thought school was over, so instead of following the class to music, I walked straight out of the building, and all the way home!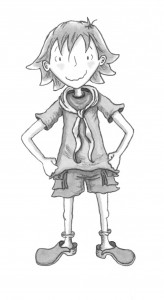 What kind of a student were you?
I was a good student, and enjoyed learning. I especially liked reading, though I often preferred reading the same few books over and over. Beverly Cleary was one of my favorite authors. I loved the funny, yet believable, situations Henry, Beezus, and Ramona found themselves in. For years, Klickitat Street felt like my other home address.
I always liked hanging out in libraries, but not just for the books. There were times when I hoped to avoid a bully in my class, so I secretly skipped school and spent the day at the library, instead. Years later, I worked at a library. I guess it's never stopped being a place that feels comfortable to me.
What were your favorite things to do when you were young?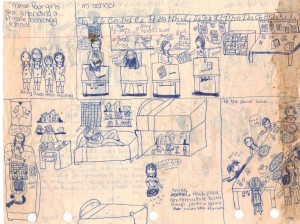 When I wasn't being chased by my brother, I liked drawing, playing with dolls, climbing trees, roller-skating, spying, listening to comedy albums, and watching TV. My favorite television shows were comedies, and I often wrote letters to the ones I liked best. Some of those shows even wrote back to me. I think that's when I discovered how much I enjoyed writing. I saw how it could connect me to the world beyond my room.
Did you ever get into trouble at home or school?
When I was very young, I often got in trouble for drawing on the walls at home. It didn't make sense why it was okay to draw on blank paper, but not on a blank part of the wall. In a way, it still doesn't.
If you weren't a writer, what would you like to be?  
I'd like to be a Shakespearian actor or on the sketch comedy show, "Saturday Night Live." Either one would be challenging, and fun.
Do you have a special place where you write books?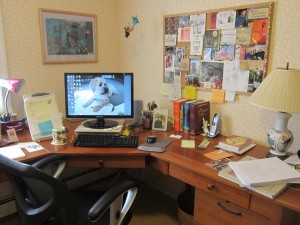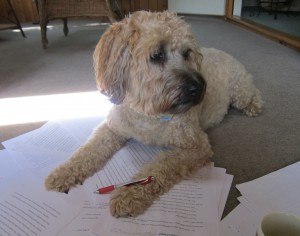 I write in a little upstairs room filled with things that make me smile–family photos, cartoons, and art that my two daughters have made. Every morning, our dog, Chloe, makes sure I get upstairs to work. She'll even bark at me if she thinks I'm lingering too long over the newspaper. She's a lot like Nana from "Peter Pan."
What's the hardest part about writing a book? How long does it take?
For me, the hardest part is finding a good plot for my characters. They seem to show up in my mind before I know what it is they really want, or how they're going to get it. Some books take about six months to write, others take longer. But whether it's a picture book or a novel, I have to write it over and over till the characters and plot work well together. When that finally happens, it's a great feeling!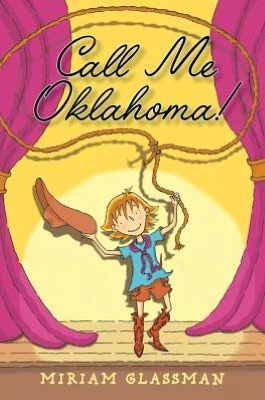 To read more about Miriam Glassman and her newest book, Call Me Oklahoma!, visit her website HERE.