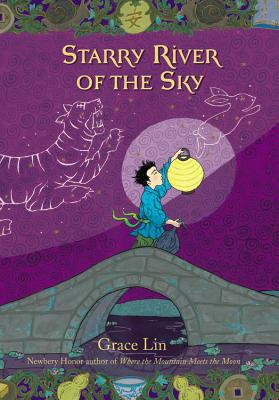 STARRY RIVER OF THE SKY by Grace Lin
Rendi has stowed away in a merchant's cart and left home. As soon as he's discovered, he's made to work in service to Master Chao, the owner of a humble inn located in the Village of Clear Sky. Rendi sneers at the shabby inn and the broken down homes of the village. And why, Rendi wonders, is he is the only one who's tormented by the crying of the dark night.
When the mysterious Madame Chang arrives, wearing the cotton robes of a commoner, Rendi's intrigued. She's elegant, magical. Her stories whisk him away from the horrible village and his unwanted memories of home, filling him with longing. Soon, Madame Chang makes a deal – Rendi will tell his own stories, if hers makes him lose his sullen disposition and, finally, laugh.
So begins the solving of the puzzle of the missing moon and the mournful tones of the night. The interweaving of Rendi's tales with those of Madame Chang, and with the lives of Master Chao, his young daughter, Peiyi, and a small group of villagers lead to Rendi's transformation and eventual return home. A beautiful and satisfying follow-up to WHERE THE MOUNTAIN MEETS THE MOON.